Kashgar
Kashgar Travel Guide - How to Plan a Trip to Kashgar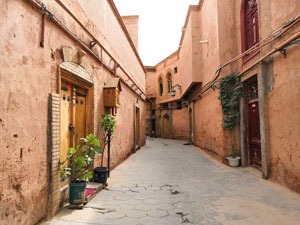 Kashgar
Foreign tourists now in China can travel to Xinjiang. A nucleic acid test result is required. For more information, please contact us.
Kashgar is a place where the gems and jades are concentrated in Uyghur. With a history of over 2,000 years, Kashgar served as a main artery of communications along the ancient Silk Road, which linked ancient China with the Central Asian countries, such as the present day India,Iran and Europe.
Highlights of Kashgar
A visit to Xinjiang Uyghur Autonomous Region is incomplete without a look at Kashgar. The world-renowned Dictionary of Turkish and Wisdom of Fortune and Joy are testimonies of the history and culture of Kashgar. Kashgar is also rich in places of interest, which are represented by the following:
Id Kah Mosque, it's the biggest mosque in Xinjiang Uyghur Autonomous Region, which consists of the Gate Tower, the Courtyard, theScripture Hall and the Prayer Hall.
Apak Hoja Tomb (also known as the fragrant princess tomb), it has an Islamic-style architecture, where the beloved concubine of Emperor Qianlong of the Qing Dynasty (1644-1911), Apak Hoja, was buried.
Pantuo City, it's located by Tumu River, and served as the imperial palace of ancient Shule (presently Kashgar).
International Bazaar, it's composed of farmers' markets, flea markets, animal markets and meat markets, where over 4,000 stalls are available.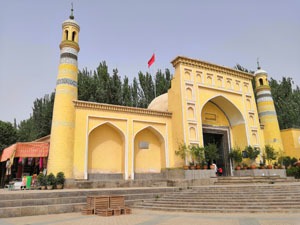 Id Kah Mosque
In addition, the hospitable Uyghursin Kashgar are good at both singing and dancing, and they welcome visitors from all over the world; their unique musical instruments and clothes are exotic to visitors. 
The bustling markets are packed with distinctively dressed Uyghurs, ambitious Central Asian traders and veiled Muslim women on Sundays. Muslim features are visible throughout the city. 
A mosque towers high above the mud-thatched houses.The lush green open valley of Kashgar, with tall poplars, is famous for the cultivation of fruits, vegetables, grains, cotton and livestock. Kashgar is very wealthy in fruits, such as watermelons, pomegranates, figs, grapes, apples and pears.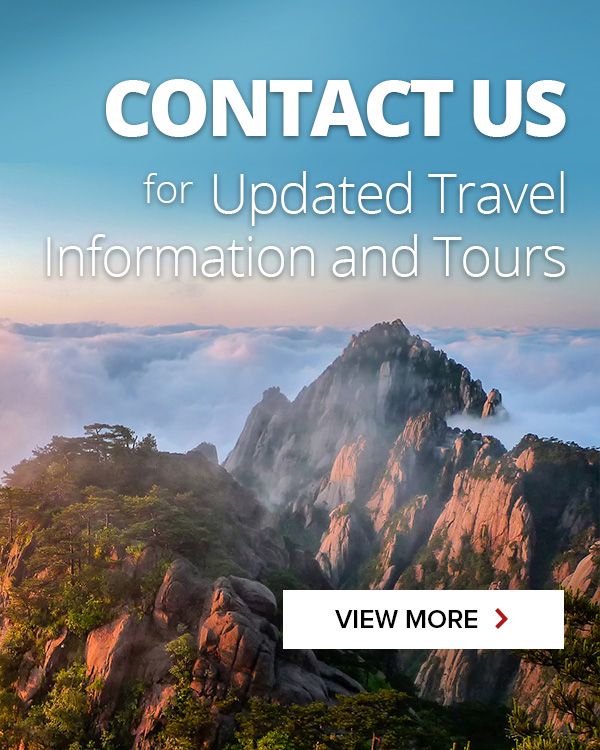 History of Kashgar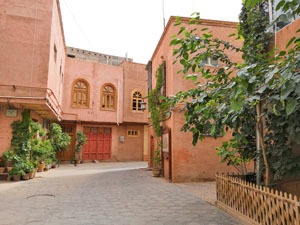 Kashgar Old City
Kashgar (ancient Shule) was under the jurisdiction of the Huns during the late Qin (221 BC-206 BC) and the early Han (206 BC-220) dynasties. Zhang Qian was stationed at Shule on his mission to the Western Regions in the 4th year (119 BC) of the Yuanshou period of the Western Han Dynasty (206 BC-9 AD), and the Western Regions Frontier Command was established by the Han Empire (206 BC-220)in 60 BC, officially making Shule an essential part of ancient China.
Serving as an important military stronghold along the Silk Road during the Tang Dynasty (618-907), Kashgar was controlled by the Qarakhanid Dynasty and the Liao Dynasty (916-1125)in succession from the Five Dynasties (907-960) to the Song Dynasty(960-1279), and it served as the capital of the Qarakhanid Dynasty.
After the great unification of Genghis Khan of the Yuan Dynasty(1271-1368), Kashgar became the feudal estate of Chahetai, the second son of Genghis Khan. Kashgar Prefecture was established in the 10th year of Emperor Guangxu's reign during the Qing Dynasty (1644-1911).
Best Times to Visit Kashgar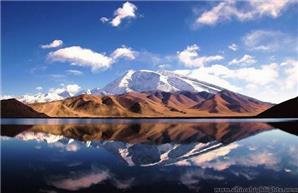 Karakuli Lake in Kashgar
Kashgar has a temperate and continental arid climate with four clearly distinct seasons, featuring a relatively longer summer time and a shorter winter, where the summer is not too hot and the winter is not too cold.
Kashgar has an annual mean temperature of 11.8°C, an annualaverage precipitation of 330 millimeters and 2,652 hours of sunshine on average per year, where the coldest month is January with an average temperature of -6°C and the hottest month is July with an average temperature of 27°C.
The period from April to October is a pleasant time to visit Kashgar while the most comfortable weather conditions and ripe fruits in that region make August and September the best two seasons to visit. Moreover, two of the most popular local festivals (the Corban Festivals and the Lesser Bairam) take place during this period and visitors can enjoy many colorful celebratory activities.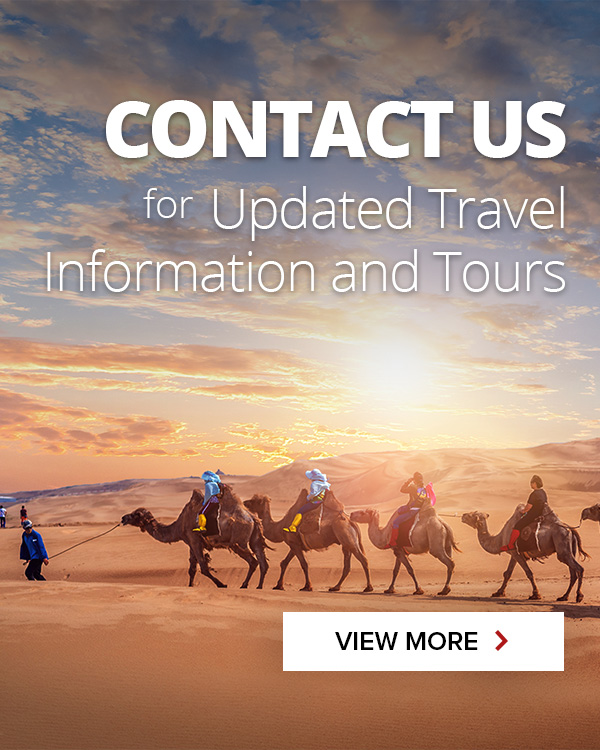 How to Get to Kashgar
Recommended route to Kashgar
As the transportation hub of south Xinjiang Uyghur Autonomous Region, Kashgar is rather convenient for all kinds of vehicles, including planes, trains, coaches, public buses and taxis.
Airway
As the second largest airport in Xinjiang Uyghur Autonomous Region,Kashgar Airport is located around 9 kilometers (6 miles) north-west of downtown Kashgar. Daily flights between Kashgar and Urumqi are available, and it takes less than 2 hours and costs about 1,230 yuan between the two cities. The public bus 2 or the airport shuttle buses can take you from the airport and Kashgar city center.
Railway
As the terminal point of the Nanjiang Railway(South Xinjiang Railway), Kashgar Railway Stationis located at Shiji Avenue, Kashgar City Center.
There are two trains shuttling between Kashgar and Urumqi each day, which pass some popular tourist cities,such as Turpan, Aksu and Korla, along the way.Although train travel is convenient and relatively cheap, it is time-consuming and the conditions of the trains running on that route are generally inferior to those on the larger routes.
Highway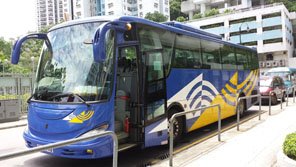 Kashgar has a comprehensive highway network spreading over to the neighboring cities, towns and beyond. The highways stretch north-eastward along Aksu, Kuqa, Korla and Turpan to Urumqi. 
The highways stretch south-eastward along Shule, Yingjisha, Shache, Zepu, Yecheng, Hetian, Dunhuang of Gansu Province, Golmud of Qinghai Province, and the Ali area of Tibet. The highways stretch northward and westward along Russia, and stretch southward along the China-Pakistan International Road. Buses frequently travel on the Kashgar to Urumqi highway.
There are two major bus stations in Kashgar, Kashgar International Bus Station and Kashgar Bus Station, and a bus trip from Kashgar to Urumqi takes around 28 hours.
Kashgar International Bus Station
In addition to buses for Urumqi and Aksu, Kashgar International Bus Station (at 5, Jichang Road, Kashgar) also has buses leaving for Bishkek and Osh of Kyrgyzstan and Sust of Pakistan.
Sust is a border town between China and Pakistan. The coach ride takes about 15 hours: 9 hours for the first day, and another 6 hours the next day. For the evening of the first day, the coach will stop over in Taxian (Ta County) where passengers will need to find accommodation by themselves. Passengers can buy tickets and board the coach at the International Bus Station located next to Toman River Hotel.
Note that the road condition is not very good, and in case there is not a sufficient number of passengers (the minimum is said to be ten or so), the coach may be cancelled and passengers will need to wait 1-5 days until there are sufficient numbers. Also, the roads are blocked by snow during winter.
Kashgar Bus Station
The buses departing from Kashgar Bus Station (at 29, Tiannan Road, Kashgar) for Shufu, Shule, Yingjisha, Yuepu Lake, Jiashi, Zepu, Yecheng and Bachu are available each day.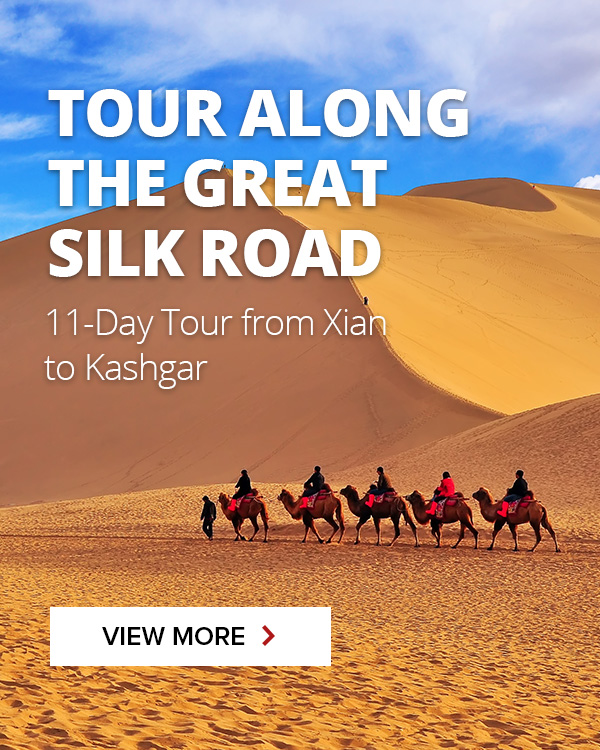 Inner-City Transportation
By Bus
The Kashgar bus system in Renmin Square radiates in all directions, and the ticket fare is from one to two yuan according to the distance. Bus 28 runs between Kashgar Railway Station and the city center, and bus 20 can take you to the International Bazaar from the city center.
By Taxi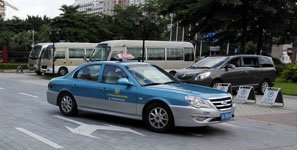 Taxi
The starting price of a taxi in Kashgar is 10yuan for the first three kilometers (1.9 miles), and it takes about 20 minutes from Kashgar downtown area to Kashgar Airport by taxi.
Accommodation
The hotel industry is rather prosperous in Kashgar. Kashgar hotels have a profound Uyghur style, most of which are concentrated in the city center, and singing and dancing performances are also available in some hotels in the downtown area.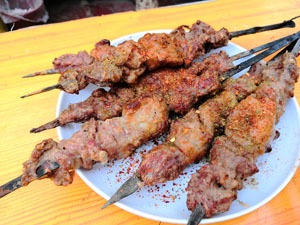 Local Food You May Like to Try
Central Asian flavor. A wide variety of Muslim food as well as taste from other regions can be tasted here. The main food here includes flour, corn, and rice. The followings are some typical food found in Kashgar.
Roasted Meat
Roasted meat is the most popular and commonly seen food in Kashgar. Street stalls cluster everywhere around the city, selling a wide variety of roasted meat. Kabobs are very easily tried here.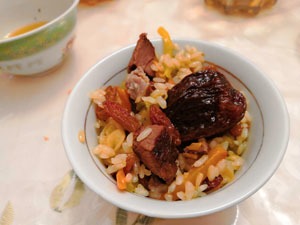 Rice Taken by Hands
Rice Taken by Hands is a popular food at festivals. The main materials are fresh mutton, carrots, onions, vegetables, rice and raisins. Raisins are boiled with sliced onions, carrots and small cubes of fried beef. Then they are put on soaked rice and boiled again. 
The ingredients are streamed for twenty minutes, afterward served. Before eating, one washes one's hands three times and dries them with handkerchiefs. Sitting cross-legged on cushions, people serve the rice on plates and eat it with their hands.
There are more than 10 kinds of this rice dish, mainly mutton, chicken and vegetarian, and the most common is the one using mutton.
Yogurt
Yogurt is a kind of sour dairy products, which very popular among the locals. Muslim people enjoy drinking it all over the year. Yogurt is a nutritious food containing a great variety of mineral substances, vitamin.
Travel Kashgar with Us
If you are interested in a Kashgar tour, please see our popular tours below for inspiration: Or you can just tell us your interests and requirements, we can help you tailor-make a tour.
Related Articles

travel guide
The Top 10 China Travel Destinations in 2021