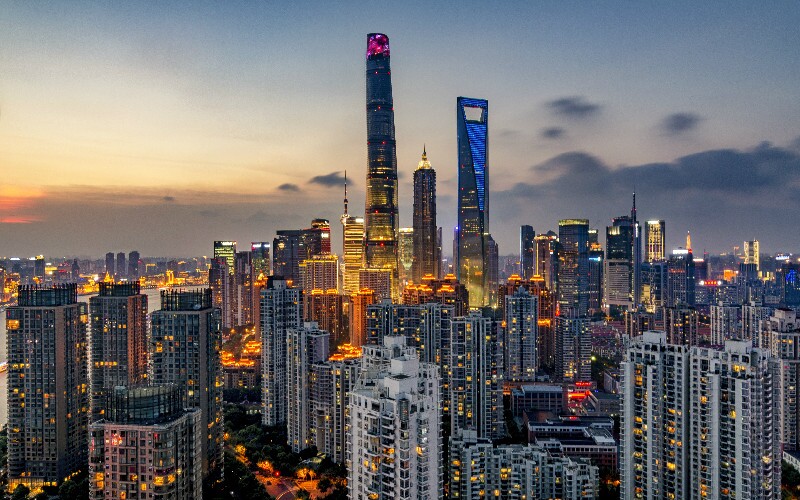 Shanghai
How to Plan a Beijing–Shanghai or Shanghai–Beijing Tour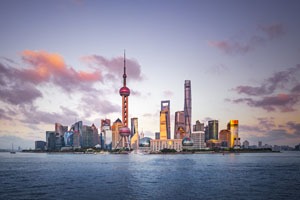 Shanghai Skyline
Beijing is the capital and Shanghai is the most developed city in China. In Beijing, the Great Wall and the Forbidden City narrate the turbulent history of the past centuries; in Shanghai, the avenues and skyscrapers indicate the rise of China.
Both Beijing and Shanghai are popular tourism destinations for overseas travelers, especially for people paying their first visit to China. No matter whether you start from Beijing or Shanghai, impressive places and activities are waiting for you to discover them, and the convenient transportation offers a comfortable and swift journey between the two cities.
Read on to discover what you can expect to find in Beijing and Shanghai, how to travel between the cities, and a 6-day tour plan.
Things to Do in Beijing and Shanghai
Beijing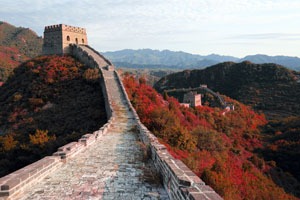 The Great Wall
Beijing has been the capital of China for hundreds of years. This is a historical city with ancient sites, such as the Great Wall, the Forbidden City, and the Summer Palace.
If you want a deeper exploration, try the following activities with us:
Visit less crowded Great Wall sections or enjoy the night view of the Great Wall.
Explore the Forbidden City beyond the regular tourist route and visit more halls and exhibits.
Have an in-depth exploration of the hutongs in Beijing. Visit a hutong family and learn to write Chinese characters.
Check out more spotlight experiences in Beijing.
Shanghai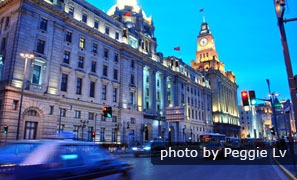 Night View of the Bund
Shanghai is the most developed city in China and it also has a long-standing history.
The best way to get to know the city is to visit both the new and old parts of Shanghai:
Enjoy a bird's-eye view of the city from the Shanghai Tower.
Have an in-depth culture discovery tour with a local guide and listen to some stories that have never existed in any book or on any website.
Visit a traditional garden or a water town in Shanghai.
Admire Shanghai's charming night views by riding in a jeep.
Check more of the spotlight experiences in Shanghai.
Best Time to Visit Beijing and Shanghai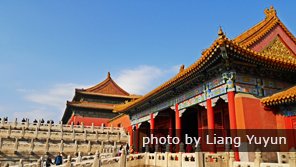 Forbidden City
Beijing and Shanghai are suitable to visit all year round. However, the best time for the two cities is autumn, especially in October and November, because the weather is warm, sunny, and dry.
You still have a lot of things to do if you visit Beijing and Shanghai during the other seasons. Check our Beijing weather and Shanghai weather articles for more information, as well as for a 5-day weather broadcast.
Be aware that the first week of October is China's National Day holiday. During this time, there are large crowds in the attractions and tickets and hotels are harder to book. Confirm your itinerary and bookings as early as you can.
How to Travel Between Beijing and Shanghai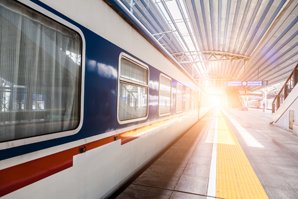 Travel by highspeed train is a good option
There are over 50 direct flights and 40 high-speed trains from Beijing to Shanghai and Shanghai to Beijing every day. Both types of transportation are convenient for overseas travelers. If you haven't experienced China's high-speed railway, you are recommended to try it.
By High-Speed Train
There are 40 pairs of high-speed trains between Beijing and Shanghai every day. Most of the trains connect Beijing South Railway Station and Shanghai Hongqiao Railway Station (about four pairs of trains run from/to Shanghai Railway Station).
The high-speed trains operate at 350 kph and take you to your destination in 5–6 hours.
Read about how to take a train in China.
By Direct Flight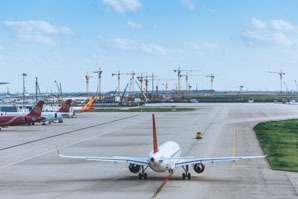 Shanghai Hongqiao International Airport
There are over 100 flights every day, so the tickets are easier to book. Most of the flights connect Beijing Capital International Airport (PEK) and Shanghai Hongqiao International Airport (SHA), with about 14 flights arriving at / departing from Shanghai Pudong International Airport (PVG).
Taking a flight between Beijing and Shanghai takes about 2 hours 20 minutes.
Read more about Beijing to Shanghai transportation.
Visa Policy
You need to apply for a China visa to visit both Beijing and Shanghai.
Although you can enjoy a 144-day visa-free trip in Beijing or Shanghai, the policy is not available from Beijing to Shanghai and vice versa. You cannot apply for your China visa in Beijing or Shanghai if you are going to visit both cities so you should apply for it in your country.
See how to apply for a China visa.
Time Needed
To visit Beijing from Shanghai or Shanghai from Beijing, you can go on a 2-day tour via flights or high-speed trains.
If you want to visit both Beijing and Shanghai, a 6-day journey (4 days in Beijing and 2 days in Shanghai) will offer you a better experience.
Beijing–Shanghai Tour Plan
2-Day Beijing Highlights Tour from Shanghai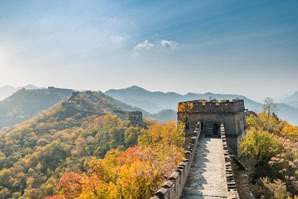 The Great Wall
Day 1: Shanghai to Beijing and the Great Wall
Morning: Take a high-speed train or flight from Shanghai to Beijing.
Afternoon: Hike the Great Wall at Mutianyu.
Evening: Have some free time. Watching the live show called The Legend of Kung Fu in the Red Theatre is a good option.
Tip:
If you are seeking a romantic experience on the Great Wall, a night tour on the Simatai section is a good choice.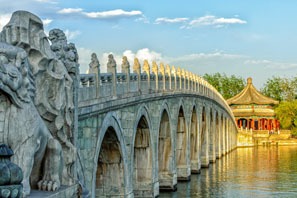 The Summer Palace
Day 2: The Forbidden City, the Summer Palace, and Back to Shanghai
Morning: Explore Tian'anmen Square and the Forbidden City.
Afternoon: Relax in the Summer Palace and go back to Shanghai.
Tip:
The Forbidden City is often crowded with tourists. If you want to stay away from the crowds and discover more tranquil halls and gardens, our exclusive tour goes beyond the regular route.
Check our 2-Day Beijing Highlights Tour from Shanghai for detailed information of the tour, and find out what's better for you.
2-Day Shanghai Highlights Tour from Beijing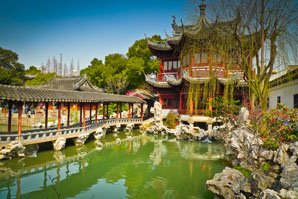 Yu Garden
Day 1: Beijing to Shanghai, the Bund, Yu Garden
Morning: Take a flight or high-speed train to Shanghai.
Afternoon: Visit the ancient buildings in the Bund then visit Yu Garden to enjoy some leisure time.
Evening: Have some free time. You can walk along Nanjing Road and enjoy the night view.
Tips:
If you want to learn more about old Shanghai and the Bund, going on an in-depth Bund culture discovery tour is a good choice. A local expert guide will travel with you and tell you about the culture, history, and stories of that age.
If you are looking for something cool to do for the night, spend your evening in Shanghai in a jeep.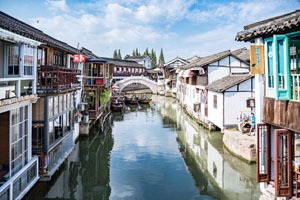 Zhuijiajiao Water Town
Day 2: Zhujiajiao Water Town and Shanghai Departure
Morning: Visit Zhujiajiao Water Town.
Afternoon: Go back to Beijing.
Tip:
Seeking more interesting things to do in old Shanghai? If you have more time during the day, follow your guide to visit the Propaganda Poster Art Centre, which is hidden in a residential area. This is a wonderful place to learn about China's political history through posters.
If you are interested in the tour plan, check our 2-Day Charming Shanghai and Water Town Tour for more information.
6-Day Beijing and Shanghai Tour
With this tour plan, you can enjoy some top attractions in Beijing and Shanghai over 6 days. Refer to the brief itinerary below:
Day 1: Beijing arrival
Day 2: Tian'anmen Square, the Forbidden City, and discover the hutongs
Day 3: the Temple of Heaven and the Great Wall
Day 4: the Summer Palace and a high-speed train to Shanghai
Day 5: the Bund, Yu Garden, and the former French Concession
Day 6: Shanghai departure
If you like this plan, check our 6-Day Beijing and Shanghai Tour for details.
Visit Beijing and Shanghai with Us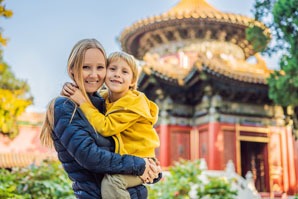 Visit Beijing with us
A good choice to enjoy your Beijing and Shanghai tour is to travel with us. You can enjoy a hassle-free journey because we manage your itinerary and bookings, and you will travel in a private car with a local tour guide.
Check out our popular tours:
Check more Beijing tours and Shanghai tours for new ideas, or tell us your interests and let us create a tour for you.
Related Articles

Shanghai
How to Plan a Trip to Shanghai