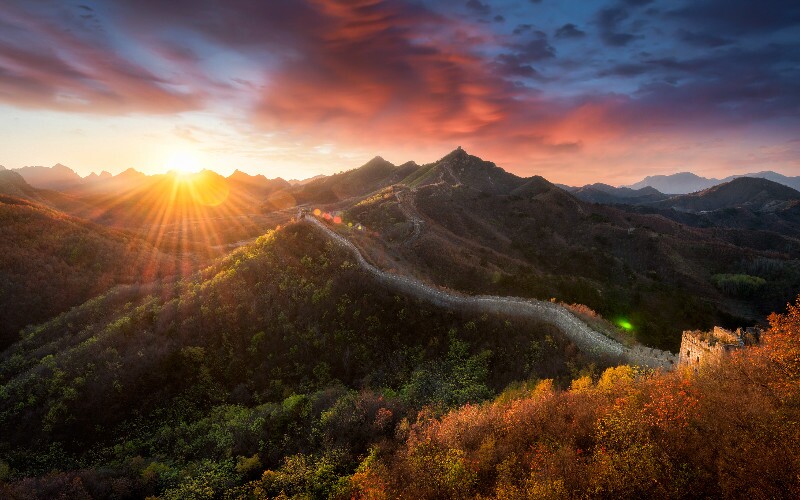 The Great Wall of China
The Top 20 Amazing Great Wall Facts You Should Know

The Great Wall of China
The Great Wall of China is the world's longest wall and biggest ancient architecture. Its winding path over rugged country and steep mountains takes in some great scenery. It has a stunning array of scenery from the beaches of Qinhuangdao, to rugged mountains around Beijing, to a desert corridor between tall mountain ranges.
Chinese name: 长城 (Chángchéng /channg-chnng/ 'Long Wall')
Other name: 万里长城 (Wàn-Lǐ Chángchéng /wann-lee channg-chnng/ 'Ten-Thousand-Li-Long Wall', i.e. 'the 5,000-Kilometer-Long Wall')
Beijing Accessibility & Restrictions for Visitors
Beijing is conditionally open and can be visited by foreign travelers. If you are planning a trip to Beijing and want to know more details, please contact us. Alternatively, you can check our popular Beijing tours for inspiration.
1. What you will need to visit:
Green health code
Mask
Registration form for temporary residence (required by hotels)
2. If you come from areas with medium or high risk, you need to be quarantined for seven days.
3. Popular attractions that are open include (but are not limited to):
The Forbidden City (including indoor exhibition halls)
The Great Wall
The Temple of Heaven
The Summer Palace


Here are 20 facts you should know to really appreciate the Great Wall...
10 Great Wall Numbers You Should Know

The Great Wall at Jinshanling
1. The official length is 21,196.18 km (13,170.7 mi) —; (6+ dynasties' worth)
2. Most of today's relics are the Ming Dynasty Great Wall: length 8,851 km (5,500 mi).
3. The Great Wall is more than 2,300 years old.
4. The Ming Great Wall crosses 9 provinces and municipalities: Liaoning, Hebei, Tianjin, Beijing, Inner Mongolia, Shanxi, Shaanxi, Ningxia, Gansu.
5. Badaling is the most visited section (63,000,000 visitors in 2001). And in the first week of May and October, the visitor flow can be up to 70,000 per day.

The Great Wall at Simatai
6. The average height of the Great Wall at Badaling and Juyong Pass is 7.88 meters, and the highest place is 14 meters high.
7. Nearly 1/3 of the Great Wall has disappeared without trace.
8. Since 1644, when the Ming Dynasty was overthrown, no further work has been done on the Great Wall (for military purposes — some has been restored for tourism).
9. Great Wall reconstruction and protection began with Badaling in 1957.
10. In December 1987 the Great Wall was placed on the World Heritage List by UNESCO.


10 More Top Great Wall Facts

The Great Wall at Jiankou
1. The Great Wall of China cannot be seen from space by the human eye without aid.
2. The Great Wall is not a continuous line: there are side walls, circular walls, parallel walls, and sections with no wall (high mountains or rivers form a barrier instead). In the Qin Dynasty (221—206 BC), glutinous rice flour was used to bind the Great Wall bricks.
3. The Great Wall labor force included soldiers, forcibly-recruited peasants, convicts, and POWs.
4. The First Emperor of Qin was not the first to build the Great Wall. He linked the northern walls of the states he conquered.
5. There most popular Great Wall legend is about Meng Jiangnv, whose husband died building the Wall. Her weeping was so bitter that a section of the Wall collapsed, revealing her husband's bones so she could bury them.
6. The Gubeikou Section of the Great Wall has bullet holes in it, evidence of the last battle fought at the Great Wall .

The Jiayuguan Fortress
7. During the Cultural Revolution (1966–1976), many Great Wall bricks were used in building homes, farms, or reservoirs.
8. The northwestern Great Wall sections (e.g. in Gansu and Ningxia provinces) are likely to disappear in 20 years, due to desertification and change in human land use.
9. The Jiankou Section of the Great Wall, known for being steep and winding, enjoys the most appearances on Great Wall picture books and post cards.
10. The most famous section of the Great Wall — Badaling — has been visited by over 300 heads of state and VIPs from around the world. The first of which was Soviet statesman Klim Voroshilov in 1957.
More Interesting Great Wall Topics
Visit the Great Wall With China Highlights
The Great Wall of China is a must-see attraction to all travelers to China. If you are planning a trip to the Great Wall, just tell us your interests and requirements, we will help you create your Great Wall tour.
Or you can see our most popular Great Wall tours below for inspirations:


Related Articles

The Great Wall of China
Best Times to Visit the Great Wall

travel guide
The Top 10 China Travel Destinations in 2021