Chinese Zodiac
Chinese Zodiac Love Compatibility
Similar to astrological matching, Chinese people traditionally used Chinese zodiac compatibility for marriage or romantic relationships. The Chinese zodiac is a cycle of 12 animal signs. Your birth year sign's attributes are believed to determine compatibility with other signs.
Want to know if she/he is compatible with you? Use our zodiac love compatibility calculator below and see...
Enter Your Name, Date of Birth and Test Now
Get Your 2021 Horoscope

Rabbit

Dragon

Monkey

Rooster
Your Complete Guide to the 12 Chinese Zodiac Love Match
Check the following chart to see the compatibility rating between different Chinese Zodiacs.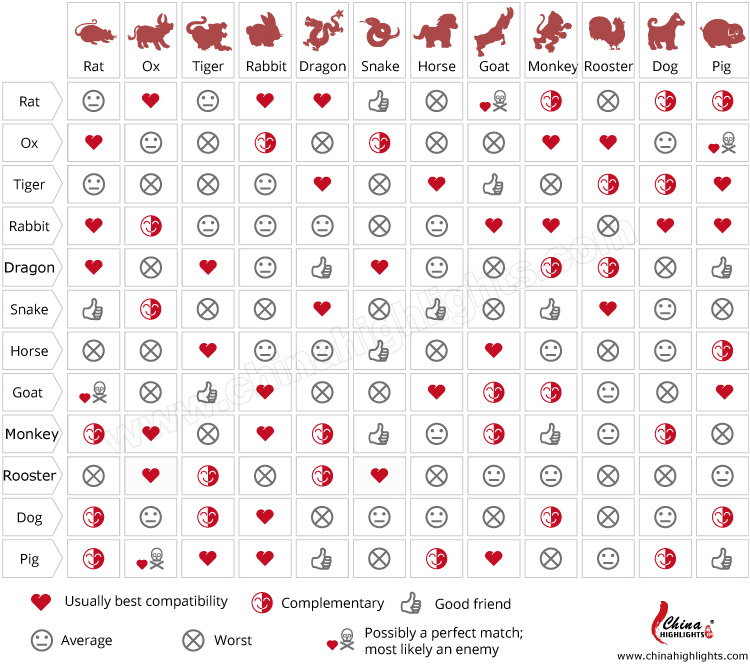 Chinese Zodiac Love Compatibility
You Might Like
Related Articles

Chinese Zodiac
2021 Monthly Horoscope for Snakes

Chinese Zodiac
Chinese Animal Zodiac Sign Calculator

chinese-medicine
Traditional Chinese Medicine