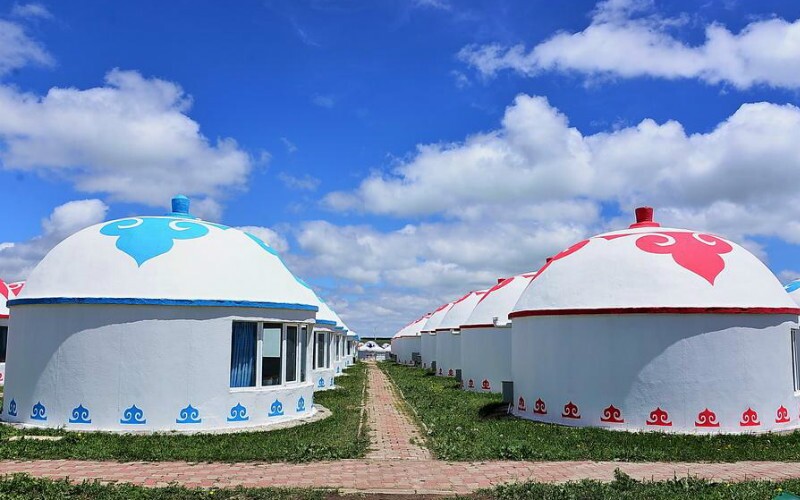 Hohhot
Huitengxile Grassland
The grassland is located in the mid-south area of Chahar Right Middle Banner (市察哈尔右翼中旗), in the city of Ulanqab (乌兰察布), Inner Mongolia Autonomous Region. It is 430 kilometers from Beijing, 135 kilometers from Hohhot (the capital of Inner Mongolia Autonomous Region), and 75 kilometers from Jining District, where the government of Ulanqab is located. "Huitengxile" is a Mongolian word which means "the cold plateau".
It is a classical alpine meadow at an altitude of 1,200 meters, covering an area of 600 square meters, with 80% to 95% of vegetation coverage. There are 99 natural lakes interspersing the grassland, called the "99 Springs". The water in the lakes neither increases nor decreases with the weather, and it's always as peaceful as mirrors. The flower blossoms last from May to September, transforming the grassland into a sea of flowers which looks very magnificent.
Climate
It is cold in winter and cool in summer, with a maximum average temperature of 18°C. The climate of the grassland is very changeable — you can commonly see that it is raining in the west but sunny in the east, or the different weather is only separated by a mountain — contributing to a wide temperature difference. As the local saying puts it, you could be "wearing a fur jacket at dawn and gauze clothing at noon, eating a watermelon beside the fireplace". Cool, warm, cold or hot, the temperature might change at any time, but it is still a good summer resort due to its cool weather in summer.
Accommodation
Mongolian style accommodation areas are built at every scenic spot of the grassland, including classical Mongolian yurts and log cabins of an antique flavor. Due to the widespread use of solar energy, it is hard to get an ideal temperature for hot water.
Local specialties offer you the original flavor of Mongolian food. The main recommended foods are parched rice, milk tea, pastoral meat, roasted mutton leg, roasted whole lamb, cheese, milk skin, milk tofu and kumiss, all of which are green foods and pollution-free local products.
Mongolian people are famous for their hospitality and politeness. No matter whether you are rich or poor, Mongolian people always treat every guest equally, at first with milky food, parched rice and pastry, and then they propose a toast, play music and sing a song for you, at last having an all-sheep meal with the pastoral meat as the main food.
Activities
Tourists can experience the cultural scene of the Mongolian nationality from varied activities held on the grassland, such as horse racing, Boke wrestling, archery, Buzkashi, riding, the Aobao festival, watching a Mongolian wedding, watching the sunrise, offering Khatags, and a bonfire party. During the Aobao festival, offering Khatags and the "Nadam" series of activities are the most representative and interesting ones.
Attractions
Yellow Flowers Valley
Located at the western end of Huitengxile Grassland, Yellow Flowers Valley is a winding valley, a remnant of ancient glaciation, which was formed by a crust fracture. It is 10 kilometers in length, about 300 meters in depth, and 100-200 meters in width. It boasts a unique landscape and amazing natural scenery, especially in summer when the valley is covered by a blanket of yellow flowers, which is how it got its name. Back to history, many nationalities strove for hegemony there. The green land, clear water, colorful flowers and lovely animals of Huitengxile Grassland attract numerous tourists from home and abroad every year. It has already been one of the most famous highlights in the Inner Mongolia Autonomous Region.
Shencong Ditch
In ancient times, some smelly shallots grew on the raised rocks in the ditch, dependent on the favorable environmental conditions; the shallots grew bigger and bigger, until they finally grew into huge ones. So the local people called them "Shencong" (sacred shallots) and called the ditch "Shencong Ditch". Some of those sacred shallots still remain there.
Standing at the top of Shencong Ditch, a mountain called "Five Fingers Mountain" will come into your sight, which is composed of some hundred-meter-high rock pillars. It is said that the mountain was originally God's five fingers.
One-Mirror-Sky
Go down along the Shencong Ditch and you will see this scenic spot. Enter it and look up at the sky — only one small part of sky can be seen through the crowed rocky structure there — and it looks like a mirror. That's why it's called "One-Mirror-Sky".
The Goddess Cave
It is a 3-meter-deep and 2-feet-wide cave in the center of a huge rock, just beside the One-Mirror-Sky. The cave bottom can't be directly seen from the cave mouth; the cold air might cool your blood down.
The Wind Power Plant of Huitengxile  
It is the biggest wind power plant in Asia. The grassland is located on a highland with a high altitude and abundant wind power. The average yearly wind speed at 10 meters of height is 7.2 m/s, 8.8 m/s at 40 meters; the wind power density is 662 watt/㎡; the annual average air density is 1.07 kg/m³; the effective wind time is 6255 h to 7293 h (under the condition of 10-m-height to 40-m-height, 5 to 10 m/s), boasting the features of a stable, sustainable and high quality area, it is an ideal destination to build wind power plants. Since it opened in 1996, there are 94 wind driven generators equipped there, with 1.4 trillion kilowatt/hour of installed capacity.
Travel Essentials
Address: In the south of Kebur Town, Chahar Right Middle Banner, in the center of Ulanqab, Inner Mongolia Autonomous Region (内蒙古自治区乌兰察布市中部, 察哈尔右翼中旗科布尔镇南部)
Ticket price: 5 yuan per person. 45 yuan for Huanghua Ditch (黄花沟)
How to get there: there are special buses for tourists from the downtown area to the grassland; it's about two hours' drive. From Hohhot, it takes about three hours.
You Might Like to Read
Related Articles

travel guide
The Top 10 China Travel Destinations in 2021

tour planing
How China Highlights Selects Your Hotels