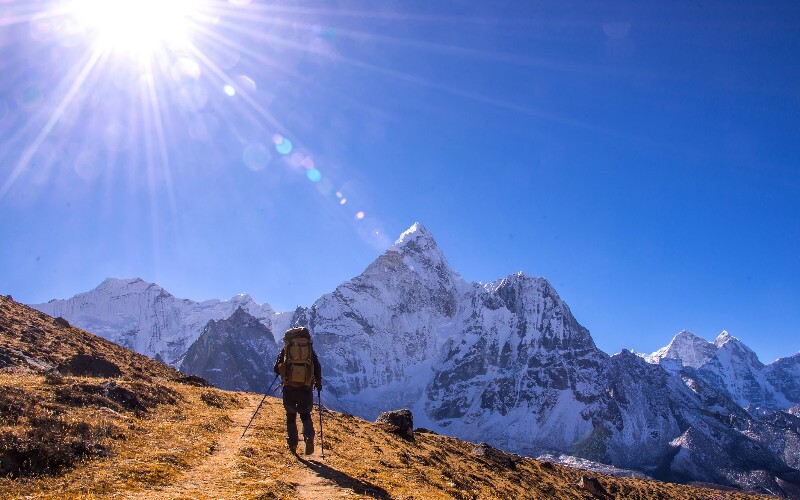 Tibet
Notable Records of Mountaineering on Everest
After the first recorded summit of Everest in 1953, now there are more than 4,000 different people have stood on the top of Everest over 7,000 times (some of them have climbed it more than once). Read on to learn more about the records of mountaineering on Everest
Tibet Reopens for Travel From May 9, 2021!

Scan the QR Code to contact us on Wechat!
Have you been dreaming of a Tibet tour for a long time? It's time to restart your travel plans now. Tibet reopens to China expats from May 9, 2021 after being closed for more than a year.
Contact us now to plan your tour and prepare your Tibet Travel Permit documents in advance. Don't worry about canceling. We allow free cancellation for any reason up to 24 hours before departure.
Contact us via WeChat: chinahighlightstour
Notable Summit Attempts
First attempt by a British team: 1921 (included George Mallory)
First summit ascent: George Mallory, 38, and Andrew Irvine, 22, disappeared on their way to the summit in 1924. Irvine's ice axe was found in 1933 at 8,461m (27,760ft). Mallory's body was found in 1999 at 8,157m (26,760ft). Whether they reached the summit remains a mystery.
First-of-a-Kind Ascents

Mount Everest Base Camp
1. First confirmed ascent: 1953 - Edmund Hillary, NZ, and Sherpa Tenzing Norgay, Nepal (Norgay had tried to summit six times previously.)
2. First American to summit: James Whittaker, 1963
3. First female ascent: 1975 - Junko Tabei (Japan)
4. First summit without bottled oxygen: 1978 - Reinhold Messner (Italy) and Peter Habeler (Austria), in May, 1978. Messner summited solo without bottled oxygen in 1980.
5. First winter ascent: February 1980 - Leszka Cichy and Krzysztof Wielicki (Poland)
6. First trek from sea level to summit: 1990 - Tim Macartney-Snape (Australia) without bottled oxygen
7. First blind summiteer: Erik Weihenmayer (US) in 2001
Oldest and Youngest Climbers Records

Starry sky of Mt. Everest
Oldest male summit climber: 80-year-old Yuichiro Miura from Japan in 2013 (also at 70 and 75)
Oldest female summit climber: Tamae Watanabe, 73, from Japan in 2012.
Youngest summit climbers: Jordan Romero (US, male, 13 in 2010) and Malavath Purna (India, female, 13 in 2014; one month younger than Romero)
Records for Number of Ascents
Most summit ascents: 21 each by Sherpas: Apa Sherpa (including 3 times in 2007) and Phurba Tashi (almost every year between 1990 and 2011).
Five ascents since 1990: Sir Edmund Hillary's son, Peter
Largest group to climb Everest: a 410-member Chinese team in 1975.
Other Summit-Top Firsts

View of Mt. Everest from Rongbuk Monastery
1. First couple married at the summit: Pem Dorjee Sherpa and Moni Mulepati on May 30, 2005.
2. First to summit after breaking three vertebrae: Bear Grylls, most famous celebrity summiteer, and youngest Brit to summit in 1998 aged 23, also flew above the peak in a powered paraglider in 2007.
3. First Olympic torch: May 8, 2008, before the 2008 Beijing Olympics; lit by a group of Chinese mountaineers
4. First tweet: sent by Kenton Cool in 2011 - "Everest summit no 9! 1st tweet from the top of the world thanks to a weak 3G signal"
Fastest Descents and Ski Descent 
Fastest descent: 11 minutes - Jean-Marc Boivin (France) on a paraglider in 1988.
First ski descent: 2000 - Davo Karnicar (Slovenia)
Deaths on Summit Attempts

Gyalwula pass to Mt. Everest China side
Death rate: about 1/15 for summit attempts (about 300 death till 2017)
Most dangerous area on Everest: the Khumbu Ice Fall - 19+ deaths
Biggest causes of death: avalanches, followed by falls
First recorded deaths: 1922 - seven Sherpa porters killed by an avalanche on a British expedition.
Mountaineering Facts on Everest
Two main ways up: the Southeast Ridge from Nepal (easier and more popular) and the North Ridge from Tibet, China.
Two (touristy) base camps: There are two Everest base camps (EBCs) below the snow line - Nepal-side and China-side.
Number of summit climbs: over 5,000 by over 3,000 people
Climbed yearly: The last year that no one climbed to the Everest summit was 1974.
Litter: 120+ tons, including oxygen tanks, tents, and other kit
Expedition Facts

Tents at Everest Base Camp, China side
1. Average summit expedition cost: 30,000 USD per person including sherpas
2. Nepal government Everest permit cost: 10,000–25,000 USD
3. Chinese government Everest permits cost: technically free, but a Chinese travel agency (like us) must apply for the documents
4. Bottled oxygen: typically needed from 7,900m (26,000 ft), making the last 900m (3,000 ft) possible for most climbers (average 3,000 USD)
5. Summit expedition duration: average 2 months, including getting there and back and acclimatization
6. Sherpas are hired to carry kit: Sherpas are a nomadic people of eastern Nepal, who also use "Sherpa" as their last name. Usually their first name is the day of the week on which they were born. Sherpas can suffer altitude sickness like everyone else, but are less likely to.
Related Articles

about us
China Highlights Promise