The Great Wall of China
Take a Hike of a Lifetime: Popular Wild Great Wall Hiking Routes
As one of the most important ancient wonders in the world, the Great Wall is a must for visitors to Beijing. You may just be interested in touring the well-preserved/restored parts, leaving the wild parts as mysterious, but if you enjoy hiking there are great rewards to be had from exploring the uneven steps and slopes of the "wild Great Wall". It is an experience you will remember for a lifetime!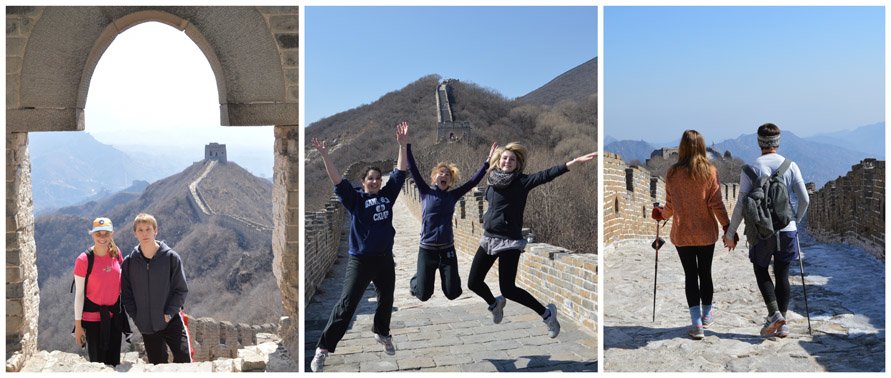 Why You Should Visit the Wild Great Wall
You may know about the Badaling section of the Great Wall, which is the only exposure of many foreign travelers to this ancient wonder. It is often overcrowded and much of it is not the original bricks. The wild parts of the Great Wall, like Jinshanling, Jiankou, and Simatai are less visited and original. They are the "true" Great Wall, where you can avoid huge crowds of people, and enjoy the original essence of the Great Wall in peace.
Hiking on the Great Wall typically takes one day or two days, depending on the length of the route. Consider the three options below.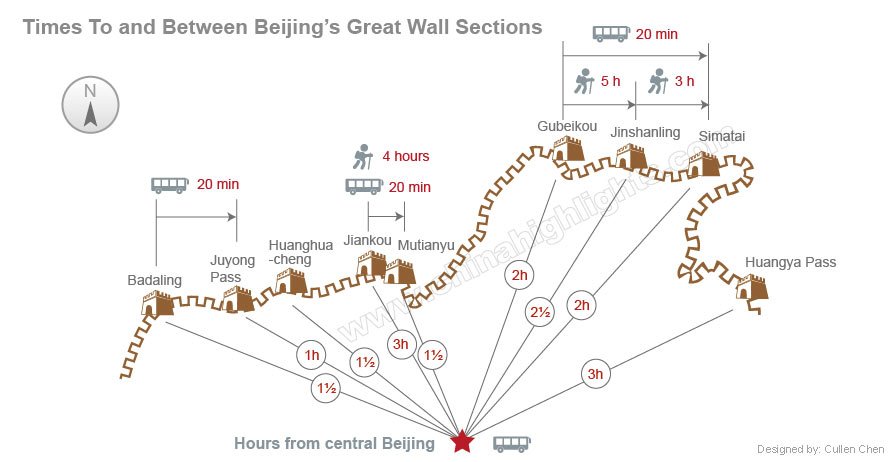 Have a look at this Great Wall distance-from-Beijing guide to get a general idea of distances and travel times:
The Gubeikou – Jinshanling – Simatai Great Wall Hike
The Great Wall at Gubeikou is craggy and steep. What makes Gubeikou so attractive is that there are a number of ancient villages and relics around where local culture is well-preserved. Panlongshan's Great Wall, on the way to Jinshanling, is less-visited, original, and one of the most recommended Great Wall hiking paths, with beautiful natural scenery.
Some parts of Jinshanling's Great Wall are ruined and original, but some are restored. Hiking on the Great Wall at Jinshanling, you can see 15 towers and two forts.
Simatai's Great Wall is a fabulous part of the Ming Dynasty Great Wall, which was uniquely designed and diversely constructed. You can hike along the rugged zigzag wall on steep mountain ridges. A museum with precious relics and collections recording the history and development of the Great Wall is located near Simatai.
Hiking time: 5 hours from Gubeikou to Jinshanling, and another 3 hours to Simatai
Hiking level: Intermediate – advanced
Location of Gubeikou: Miyun County, northeast of Beijing (about 150km from the city center)
Recommended tour: 5-Day Jiankou to Simatai West Hiking Tour: Jiankou, Gubeikou, Simatai West, Jinshanling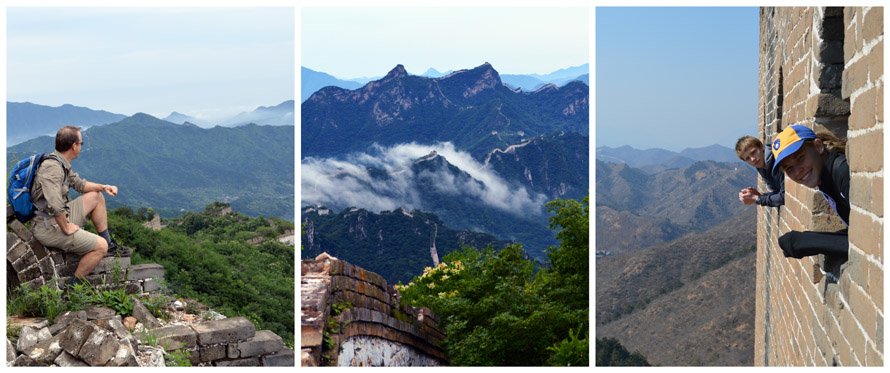 The Jiankou – Mutianyu Great Wall Hike — Both Wild and Paved Walls
You start your hike by ascending to Zhenbeilou Watchtower at Jiankou, and proceed to the cableway at Mutianyu to descend from the Great Wall. Stunning views of natural scenery and the ruined wall, many stone statues, and tablets carved with Chinese calligraphy, can be seen along the way. Mutianyu's Great Wall is a complete contrast to wild Jiankou. The ancient watchtowers are completely restored to their former glory.
You will notice a big difference in walking conditions as you walk eastward to Mutianyu: the path at Jiankou is really steep and rough, whereas Mutianyu is less steep and paved.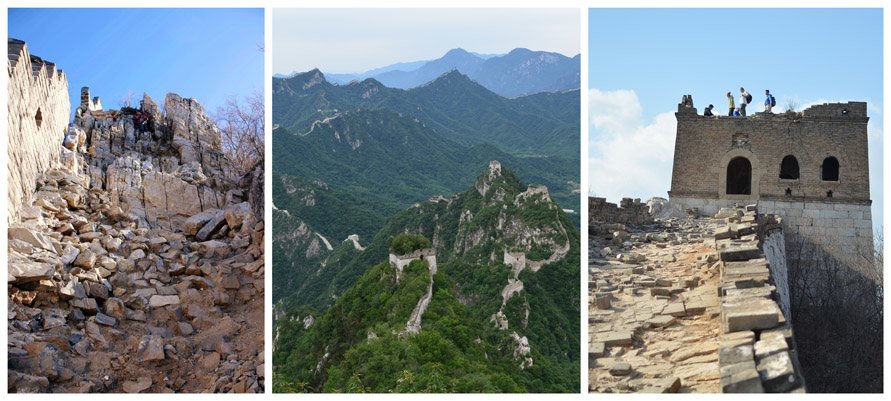 The Huanghuacheng Great Wall Hike — Less Risky and Challenging
Huanghuacheng's Great Wall is a little different from other parts of the Great Wall. You can not only see fabulous mountain views, but also a quiet lake and reservoir. Along the route you will pass six fortified passes, 12 beacon towers, and 32 guard towers. The Great Wall at Huanghuacheng is not very risky and challenging as the paths are smoother than at other wild parts of the Great Wall.
Hiking time: 2 hours
Hiking level: Intermediate
Attractions nearby: Chinese Chestnut Garden, Black Dragon Pool
Location: Huairou County, north of Beijing (about 77km from the city center)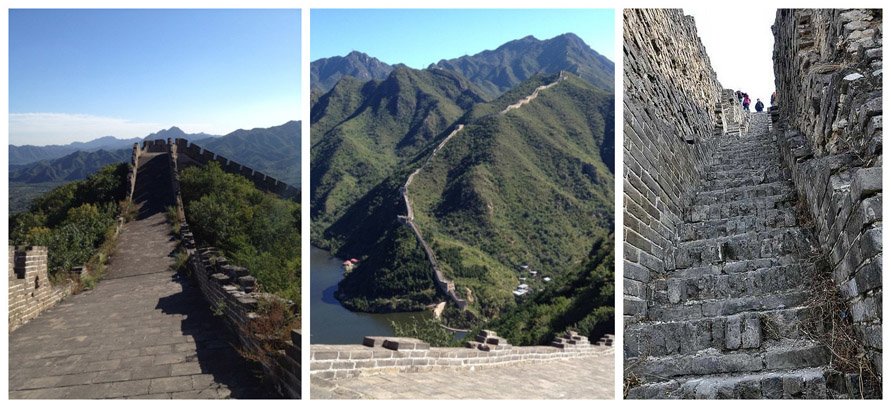 Hiking Tips:
Wear sports shoes or hiking boots. Sun glasses and caps are necessary when the sunshine is strong. Pants and long sleeves are needed to avoid scratches when you are passing through bushy areas.
Bring hiking sticks if you find them useful on uneven ground and slopes, bottles of water, and some snacks.
Confirm your insurance covers hiking (scrambling if at Jiankou) before you start the trip.
There are no toilets on the wall! Be prepared, and use the toilet at the car park before you ascend if possible.
Top Great Wall Hiking Tours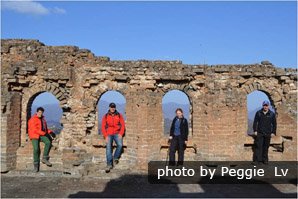 China Highlights can help you create your own unique Great Wall hiking tour according to your requirements. We can help you explore the real Great Wall, with its ancient watchtowers, precarious battlements, and beautiful natural scenery. 
Want to appreciate the sunset, have meals, and camp on the Great Wall? Contact us and tell us your requirements. We will do our best to make your dream come true.
If you are not interested in the above Great Wall hikingtour, please tell us your interests and requirements, China Highlights will create you a Great Wall Tour.
Related Articles

The Great Wall of China
Best Times to Visit the Great Wall

travel guide
The Top 10 China Travel Destinations in 2021

tour planing
How China Highlights Selects Your Hotels