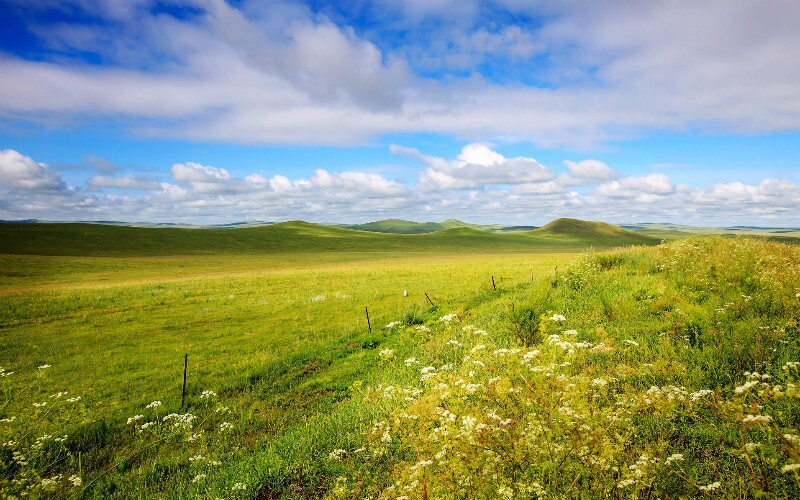 Inner Mongolia
Top Things to Do in Inner Mongolia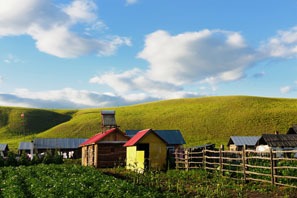 Hulunbuir Grasslands
Inner Mongolia is a beautiful place in the north of China. It has vast grasslands, masses of flocks and herds, and diamond-like lakes. It is the hometown of the great Genghis Khan. For a traveler to Inner Mongolia, below is a list of the top things to do.
Hulunbuir Grasslands
Hulunbuir Grasslands is the best preserved prairie in China. It is known as the "Kingdom of Pasture". It is also the birthplace of Genghis Khan.
It covers an area of 9,933 square kilometers (993,333 hectares). The lake is teeming with fish and shrimp, and wild flowers are everywhere. The flocks and herds, together with the Mongolian yurts, make the prairie far more charming.
In the summer, visitors can go horseback riding, view horse racing and attend wrestling matches. Campfire parties featuring whole-sheep feasts are popular.
Location: Hailaer District, Hulunbuir. It is about 1,700 kilometers from Hohhot. There are flights and trains direct from Hohhot to Haila'er. The nearest grassland to Hohhot is Xilamuren Grassland which is about 100 kilometers away, 2 hours' drive. It is not as good as Hulun Buir Grasslands.
Notes: There is a big temperature gap between daytime and nighttime. During the daytime, it can reach 30°C(86°F). At night, the temperature is about 15°C (59°F). Please prepare a coat or a jacket. Read more on Hulunbuir Grasslands
The Mausoleum of Genghis Khan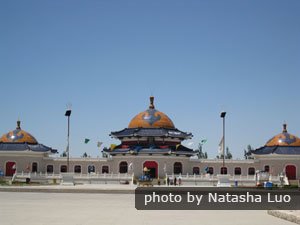 The Mausoleum of Genghis Khan
The milky white walls, the red windows and doors, the golden top and the blue cloud pictures all form a traditional Mongolian Eight White Palace, the Mausoleum of Genghis Khan. A sacred place for Inner Mongolian people, it is like a flying eagle, showing you the vigor of the prairie emperor.
Genghis Khan is a Mongolian hero. His original name was Temujin. He reunified the chaotic Inner Mongolia prairie and led his people to be a great civilization. He made great contributions to the founding of the powerful Yuan Dynasty (1271-1368) and the unification of China which greatly enhanced the interactions of the people of China.
Due to this great feat, he was named 'Genghis Khan' by the Mongolian tribes, meaning 'powerful king' in Mongolian.
The present Mausoleum of Genghis Khan was built in 1954. It is not really where he was actually buried but holds his clothing which was buried in his memory. Actually nobody really knows where he was buried, but it is still a gathering place for Mongolians to offer sacrifices.
Location: in Erdos City, Inner Mongolia, about 185 kilometers (around 115 miles) from Baotou City.
Zhaojun Tomb in Hohhot
Wang Zhaojun was a great beauty in the Han Dynasty, 2,000 years ago. At the beginning of the Han Dynasty, the Xiongnu, an ancient tribe in China, occasionally fought the Han people. Zhaojun — one of the concubines of the Han Emperor — decided to marry Chanyu (King of the Xiongnu tribe) to end the war and fighting. She succeeded. From then on, the Han people and the Xiongnu people enjoyed a peaceful and happy life. This marriage also made a great contribution towards the communication between their economies, cultures, technology, agriculture and animal husbandry.
In order to remember her, people held her clothes when building this tomb to pay their homage. A legend says that each year, when it turned cold and the grass became yellow, only this tomb remained green and so it got the name 'Green Tomb' (Qing Zhong).
Location: six miles to the south of Hohhot.
Resonant Sand Gorge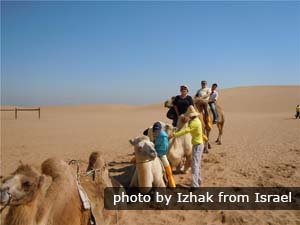 Resonant Sand Gorge
It is a sand slope which can make a hum not dissimilar to the roar of an aircraft on sunny days. It is about 400 meters wide, with a slope of 45 degrees.
The sand there is fine and smooth, and there is no rubbish. You can go horse riding, camel riding, sand sliding, attend a campfire party, take part in desert adventures, or just simply listen to the susurrations of the desert's shifting sands. Beside the Resonant Sand Gorge there is also a desert lake, an area known as 'Greenland' in the desert, and Mongolian customs to see and experience.
Location: about 50 kilometers south of Baotou City
Suggested visiting duration: half a day
Tips: take enough water with you because the water supply is not sufficient there, and it's also very expensive.
Wudangzhao Monastery
Wudangzhao Monastery is the biggest and the best preserved lama monastery in Inner Mongolia. It is a special monastery which enjoys the rights of politics and religion: it has its own jail, court and armory.
The monastery was built in the Tibetan style consisting of a group of white architectures built on the hills according to the principles of physiognomy.
The main buildings in the monastery are composed of six halls, three living Buddha residences, and a funeral hall where the relics of several Buddhas are preserved.
In the smallest Dangqi Xide Hall, there is a Buddha named Daweide, who has 9 heads, 34 arms and 16 feet.
There are some 1,500 Buddhist statues and abundant fine murals which reflect the historical characters, customs, myths and beautiful landscapes. All the collections in the monastery are precious materials for studying the history and culture of minorities.
Location: 70 kilometers (approximately 43 miles) north-east of Baotou, near a valley named Wudang Gou
Attend Nadam Fair Held on Gegentala Grassland
Horsing racing in the Nadam Fair
Nadam, which means entertainment or games in Mongolian, also represents the joy of harvest, and is regarded as a great celebration among Mongolian people in Inner Mongolia, Gansu, Qinghai and Xinjiang. It is held once a year in the golden autumn (July or August), when the livestock is fat and strong. The festival usually lasts for 5 to 10 days.
To the Mongolian people, the Nadam Fair is ancient, important and full of fun. Nowadays, it has developed into a large festival. The main activities at the Nadam Fair include horse racing, wrestling, archery, polo, playing Mongolian chess, martial arts, and other competitions as well as performances. Folk dancing and singing is performed during the fair as Mongolians are good at both of them.
There is also trade at the fair. Many kinds of products, such as local products and animal products from different places, are exchanged there.
At the fair, men and women, old and young, wear their holiday costumes and take part in the activities. Visitors are also welcome to take part in them.
Time: it starts from 4th June in the Chinese Lunar Calendar (between July and August every year) and lasts for 5-10 days.
Place: the one held in Xilingol Prairie, Inner Mongolia, is the most representative one.
Activities: horse racing, wrestling, archery, polo, playing Mongolian chess, dancing, singing, martial arts, and other competitions as well as performances.
Taste the Local Cuisine
Roasted whole sheep, roasted gigot, hand-torn mutton, millet stir-fried in butter, crème, ghee, kumiss and mutton hot pot.
Related Articles

Inner Mongolia
Inner Mongolia Travel Guide - How to Plan a Trip

Inner Mongolia
Inner Mongolia Weather - Best Time to Visit

Inner Mongolia
The Top Things to Do in Wuhai