Chinese Festivals and Events
The Top 10 Chinese New Year Activities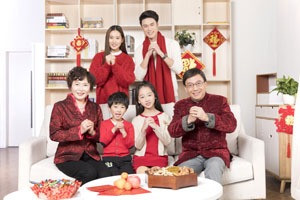 Chinese New Year
As the Chinese New Year is the most popular time in China for the whole family to spend time together, it is filled with countless activities and traditions for all to enjoy.
As with anything in China, there are many activities or customs that are specific to region or ethnicity. However, there are some symbolic Spring Festival activities that can surely be witnessed everywhere across the country.
Here we cover the top 10 Chinese New Year activities, with preparation activities first before celebration activities.
1. Chinese New Year Shopping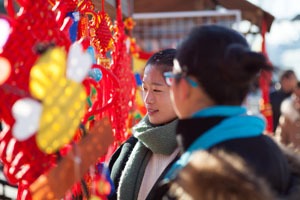 Spring Festival activities, in fact, begin much earlier than the start of the festival. The most famous of which is Spring Festival shopping, similar to Christmas shopping in the West.
People prepare a lot of Chinese New Year specialty goods, known in Chinese as niánhuò (年货). These usually are New Year decorations, fireworks and firecrackers, as well as gift items like large packs of dairy products, assorted snacks, fruit baskets, various grains, or Chinese wines and spirits. These are also the ideal gifts to give when visiting someone during the festival.
Besides buying presents for others, it is common to buy new clothes and other things for themselves and families as well.
Find out what are the most common gifts to give in the Chinese New Year, and what are some Chinese New Year gift taboos! 
2. "Spring" Cleaning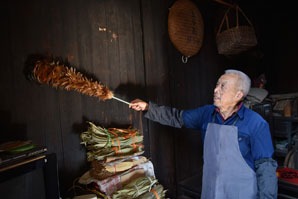 Clean house
As customary with many spring-related celebrations around the world, the Chinese New Year is the time to do a thorough cleaning of your house, and getting rid of as much unnecessary built-up junk as you can, in order to have a good start of the new year.
Similar to the Chinese Tomb-Sweeping festival, this is also a common time to visit the graves of families and loved ones who have passed, and to clean and cater to their tombs. Throughout the actual festival, cleaning may be a taboo, and is also done before Chinese New Year's Eve, and can be resumed after about the 5th or 6th day.
3. Cooking and Preparing Food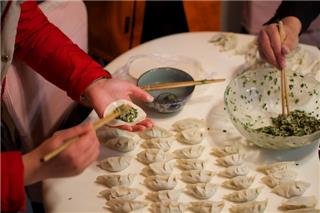 As host families would probably responsible for feeding many people over the course of a few days, cooking preparations start well in advance, especially since it is somewhat taboo to cook or work on the first days of the festival.
The tedious chore is in fact not as dreaded as one might expect, and in fact many people look forward to preparing dumplings together as a family, as it is one of the most common traditional preparations.
See 7 Lucky Foods to Eat During Chinese New Year.
4. Decorating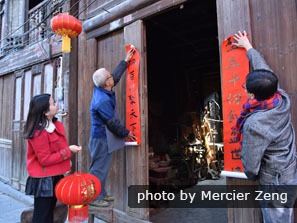 Families will decorate their houses and yards with festive symbols, such as red lanterns, red Chinese knots, and red stickers or paper-cuttings of the Chinese character 福, which means fortune.
Of course, each year's decorations will surely include the festival's Chinese Zodiac animal. Such decorations, and the excessive use of the color red, are traditionally meant to drive evil spirits away.
Check out some more authentic Chinese New Year decorations.
5. Visiting, Greeting, and Gifting
This is perhaps the most essential part of the festival. The Spring Festival is the time when people visit and greet their family members and elders. 
As many older-generation Chinese families may still live in the rural countryside, people who live and work in the cities may have originally come from there as well. If that is the case, most relatives may live in close proximity, if not immediate neighbors. This makes visiting quite convenient, and sometimes may even be a 'door-to-door' activity.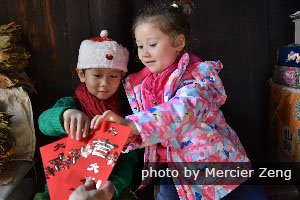 This is typically done on the first day of the Chinese year, and throughout the two-week celebrations, and it entails bringing lots of presents (usually food) to every household. Hongbao (红包), or 'red packets/envelopes' are the second most popular gift, and is more commonly given by elders to younger people.
Learn some of the most common Chinese New Year greetings and phrases to wish your loved ones, and find out more about 'red envelopes' and how to gift them!
6. The New Year TV Gala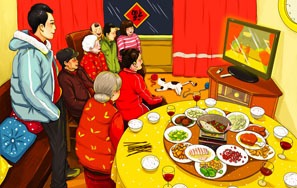 The New Year TV Gala
Every year, everyone anxiously awaits for the beloved CCTV's "New Year Gala". This show, which takes place throughout Chinese New Year's Eve until midnight, usually features political leaders, celebrities, and other famous people, and showcases spectacular dance and music performances, funny sketches, and other forms of entertainment.
Almost everyone across the country is likely to tune-in and watch the show throughout the evening, and during the reunion dinner. The show usually finishes with live-streams of magnificent firework displays from select locations across the country. 
7. Religious Activities
Although the general population in China is not particularly religious, there are many religious or spiritual traditions and customs that are important components of any festive celebration.
Almost any traditional Chinese festival will have its roots in ancient Chinese mythology, or Chinese Buddhism and Taoism. The Chinese New Year is perhaps the best evidence of this, and even families who are not religious at all, may pay a visit to the nearest temple for giving offerings to the gods, or participating in other religious rituals. 
You may want to learn more about China's various religions.
8. Folk Superstitions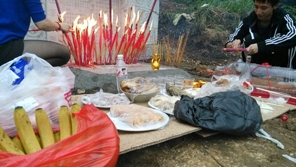 In many rural areas of China, particularly in small villages, many of these ritualistic activities will also take place in the home or outside in the yard. These may include lighting incense, hanging religious symbols as decorations, and saying some prayers. A common offering made to religious deities or to ancestors who have passed is the burning of stacks of (fake) 'paper money'.
Many of the traditions and taboos have their roots in religious practices, but today they are more accurately represented as folk superstitions, and even though they are practiced by many Chinese people, it does not necessarily mean these people consider themselves as 'religious'. 
9. Fireworks and Firecrackers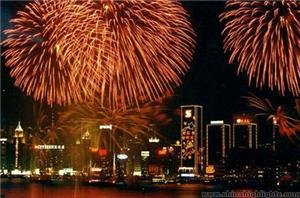 Almost every celebration in China, whether it is a holiday, wedding, or opening of a new business, is likely to have a display of fireworks. Chinese New Year, however, is when this activity truly shines.
At midnight, after the Chinese New Year reunion dinner, is when the skies are filled with the blinding and spectacular colors of the fireworks, the air vibrates with the deafening sound of firecrackers, and everyone cheers for the beginning of the year.
This show will last for up to an hour, after-which things calm down, but you are bound to still hear the occasional firework every few minutes for the rest of the two-week festival!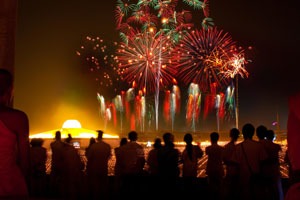 In the last decade, many big cities in China have sadly (but perhaps justly) banned the use of fireworks and firecrackers in major city centers, mainly due to safety hazards, and public disturbance. There are, however, many designated areas in major cities for the use of fireworks during specific celebrations.
If you are in the rural areas, then it is the "Wild West" of firecrackers and fireworks, and you will probably get to witness the most authentic show. Either way, families that don't personally participate in setting off fireworks, will surely get to watch it at midnight somewhere in the skies of the city.
Check out the most spectacular Chinese New Year fireworks performances!
10. Public Performances / Fairs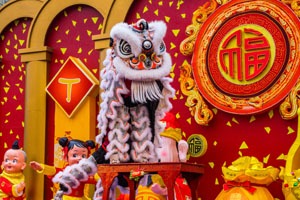 Lion dance
Most major cities have their own unique take on celebrating the Chinese New Year, and have public performances or fairs, up to and including during the Lantern Festival (Chinese New Year day 15).
These include lion dances, dragon dances, ceremonial folk shows, and religious worship. These fairs are fun for the whole family and are a great place to go to towards the end of the festival, after the lengthy period at home with excessive food.
Further Reading
You Might Like
Related Articles

Chinese Festivals and Events
The Shanghai International Music Festival

Chinese Festivals and Events
Top 10 Traditional Chinese Festivals

China facts
China Facts (17 Fantastic Facts about China)

chinese-medicine
Traditional Chinese Medicine