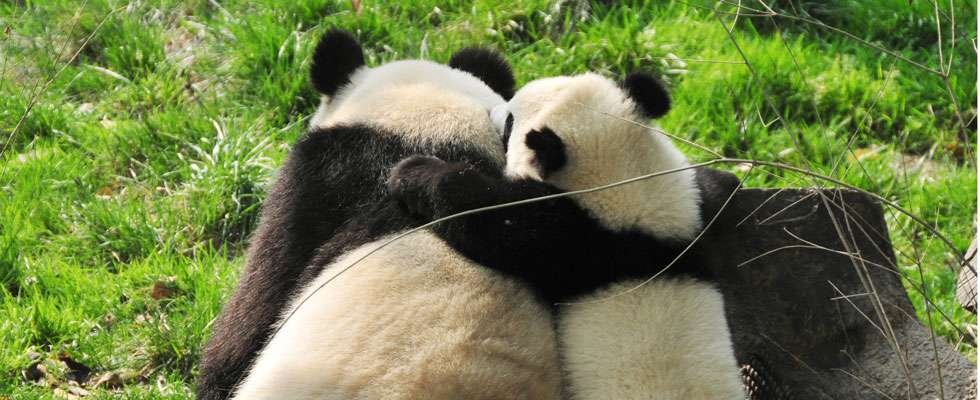 Bifengxia Panda Volunteer Experience
From: $949
Panda
Photography
Nature
Culture
This tour combines Bifengxia Giant Panda Base (the world's largest giant panda base with volunteer programs where participants can help take care of the pandas) and the highlighted attractions in Chengdu including Jinli Old Street, Wanjiang Park, and Jinsha Site Museum. There is a daily quota of 30 volunteers at the Bifengxia Giant Panda Base, so please inquire early to secure a booking.
Bifengxia Giant Panda Base has stopped the panda interconnect activities since January, 2015. The reopening date is to be announced. If you are planning a giant panda tour, please see our 1-Day Chengdu to Dujiangyan Panda Keeper Program Tour for inspiration.
Highlights
Participate in the Panda Volunteer Program to get close to pandas
Glimpse Chengdu from olden times at the actual archeological dig site of Jinsha Museum
Wander in the old districts of Jinli Street for trinkets and local snacks
What's Included
Entrance to scenic spots listed in the itinerary
Panda Volunteer Program fee and uniform fee at Bifengxia Giant Panda Base
Guiding by experienced English-speaking tour guide
Private transfers between the airport, attractions, and hotel
Lunches mentioned in the itinerary
Hotel accommodation with breakfast
Price Per Person in US Dollars
Suggested Itinerary
Your private guide will pick you up at your arrival station or airport, and your professional driver will transfer you directly to your hotel. They will help you check-in, so all you need to do is sit back and relax.
Accommodation
Tianfu Sunshine Hotel Chengdu (superior class)/Sofitel Chengdu Taihe (deluxe class).
Day 2
Jinsha Site Museum, Wenshu Monastery, Wangjiang Park, and Jinli Street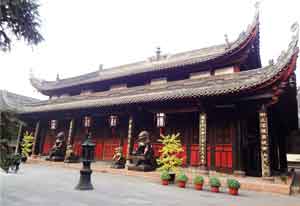 Wenshu Monastery
This morning you will visit the Jinsha Site Museum to travel back in time to ancient Chengdu. Located in northwestern urban Chengdu, the Jinsha Site Museum has been hailed as one of the major archaeological discoveries in China in recent years, where the 3,000-year old Sun and Immortal Bird (the symbol of Chengdu) was discovered. Then pay a short visit to Wenshu Monastery, an oasis of peace in the city.
After lunch, you will be escorted to the next destination. Wangjiang Park is where the former residence of the famous female poet Xue Tao (768–831) was located. There you will visit the romantic poet's tomb, appreciate the ancient Sichuan-style architectures, and take a deep breath in the verdant bamboo forest, where there are more than 100 species of bamboo.
You will feel Chengdu's relaxation in Jinli Street, a commercial street with a history of over 2,000 years. In this 550-meter street, you will feast on numerous Sichuan-style snacks, bargain for stylish local crafts, and imagine the bustling of the past with the rows of ancient-styled buildings.
Accommodation
Tianfu Sunshine Hotel Chengdu (superior class)/Sofitel Chengdu Taihe (deluxe class)
Day 3
Bifengxia Giant Panda Base Tour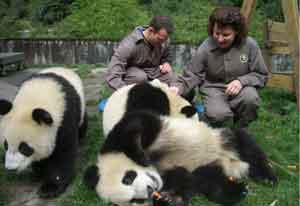 Bifengxia Panda Base
After being picked up from the hotel, it takes about 2½ hours to drive to Bifengxia Giant Panda Base in Ya'an City. This is the world's largest giant panda base.
Upon arriving, check-in at the local hotel and have lunch; then visit the Giant Panda Breeding Center at Bifengxia Base. Meet your mentor who is one of the keepers at the center. A work uniform will be issued which allows entry to the garden at any time. The mentor and guide will give a full introduction of the pandas. At the end of the day, you will be transferred to the hotel in Ya'an City.
GOOD TO KNOW
Due to the limited hotel options in Ya'an City, the conditions and services of the hotels are quite basic, but China Highlights has carefully selected the best hotel available based on criteria like hotel environment, location, service, and previous customer feedback. Your guide will accompany you to check the room. If you are dissatisfied with the room and there are other rooms available, your guide will be happy to assist you with changing it.
Accommodation
Hongzhu Hotel in Ya'an City (A 20-minute drive to Bifengxia Giant Panda Base)
Day 4
Bifengxia Panda Volunteer Experience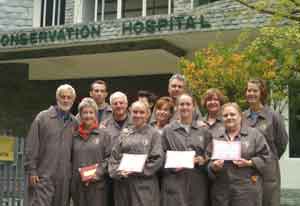 Certificate for Volunteer Program
You will spend a meaningful day doing giant panda volunteer work experience. The working schedule is from 8am to 12pm and 2pm to 4pm. With help and instruction from the mentor, your work will include cleaning the enclosure, cleaning bamboo, preparing food to feed the pandas, and collecting and weighing the pandas' feces for research. After the program, your guide and driver will escort you back to the hotel in Chengdu.
GOOD TO KNOW
1. There is a daily quota of 30 volunteers at the base. Please inquire early to secure a booking.
2. The final activities are subject to the panda base's arrangements and according to the pandas' actual situation, which is beyond our control. Because giant pandas have their own lifestyle and behavior, sometimes it is very hard for them to tolerate any outside influences. Our recommendation for our customers is to be patient and cooperative.
Accommodation
Tianfu Sunshine Hotel Chengdu (superior class)/Sofitel Chengdu Taihe (deluxe class)
Your private guide and driver will help you check-out at the hotel and will transfer you to the station or the airport on time. They will assist you with your luggage and check-in to ensure that you have a stress-free departure. We trust that you enjoyed your time in China and we look forward to being of service to you again.
Trip Notes
Reopen of panda photo and volunteer program
In order to protect the giant pandas from canine distemper infection, all the panda bases stopped the panda interconnect activities since January, 2015. Dujiangyan Panda Base has reopened the volunteer program and the program to take photos holding a panda since March, 2015. The reopening date of these programs at Chengdu Giant Panda Breeding and Research Base and Bifengxia Giant Panda Base is still TBA.
A donation program which allows you to take pictures holding a panda for about one minute is not included in the volunteer program. It's only available in Dujiangyan Panda Base now and the donating amount is CNY 1,800 yuan (for reference only). Only 20 tourists are allowed to hold pandas per day. If you want to hold a panda, please tell your travel advisor or tour guide in advance because you must book it at least one week in advance. This program is subject to the availability of pandas on that day. Please take enough CNY cash, as payment by credit card is not accepted there.