weather
Chongqing Weather in October, Chongqing Temperature in October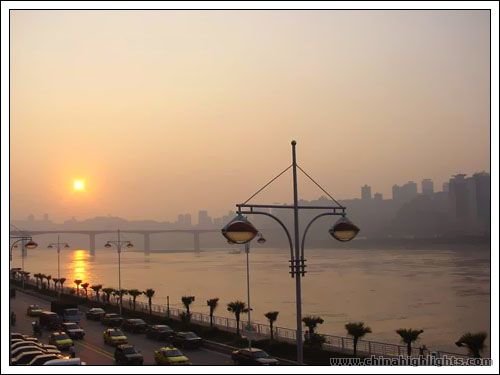 Chongqing sunset
Weather: The weather in October grows cool. It is often cloudy with a breeze, and it rains sometimes. The highest average temperature of the day is about 22 °C (72 °F) while the lowest is around 16 °C (61 °F).
The cool weather comes with less rain. Rain falls on half the days of the month for a monthly total of 93 mm.
Forecast: The weather is changeable, so stay abreast of the local weather forecast.
Air quality: moderately polluted.
Clothing: You'll need a jacket, pants, and rain gear.
Things to Do in Chongqing in October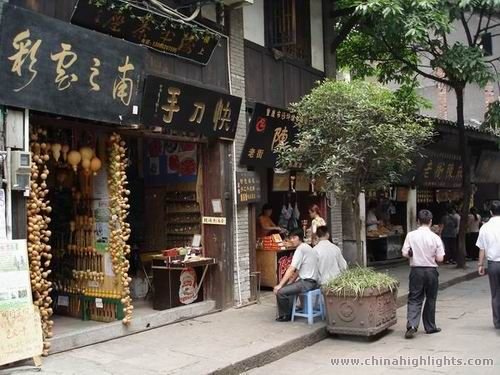 Ciqikou shopping
In terms of weather, it is one of the best months to go there because it is cooler and rains less especially by the end of the month. You'll avoid the cold and air pollution of winter and the sweltering temperatures of summer.
See the Pandas
Chongqing Zoo has a fine group of pandas. There are both the big black and white ones and the lesser known cat-like and playful red pandas and other exotic creatures in a large park. See which creatures you like best.
Shop and Sightsee at Ciqikou
Ciqikou Old Town: The tourist shopping area has old architecture to explore on a shopping/walking tour. Tourists can find silver products, porcelain, tea, souvenirs, and other products.
See the Wulong Karst National Park
Wulong Park: This famed World Heritage listed natural park is four hours from Chongqing. Less rainy and cool October weather is a good time to hike and see three natural stone bridges averaging 200 meters high and 200 meters wide.
Touring Chongqing in October
Peak Tourist Season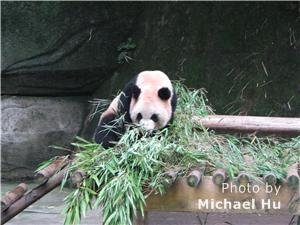 Panda in the zoo
The National Day holidays are from October 1 to 7. Many people plan to take a trip during this week. In a word, October is one of the busiest travel month of the year.
The Mid-Autumn Festival is another important holiday. It might fall in October one out of three years. It also is associated with high travel and tourism.
Chongqing has 72-hour visa free visits. This means you can tour the large city region without a visa and save money and time.
Chongqing/Yangtze Tours
Essence of Chongqing and Yangtze Cruise Tour: Chongqing is the top gateway for the Yangtze cruise. Explore the "mountain city" Chongqing with your Yangtze River cruise, and discover the beautiful Yangtze River culture.
11-Day Majestic Yangtze River Tour: Cruise the Yangtze and visit highlights in Xian, Shanghai, and Beijing, and Chongqing with fall scenery.
Yangtze Gold Cruises: These newest luxury liners have useful hi-tech facilities.
See our full spectrum of tours.
Chongqing Climate Information by Month
Related Articles

travel guide
The Top 10 China Travel Destinations in 2021