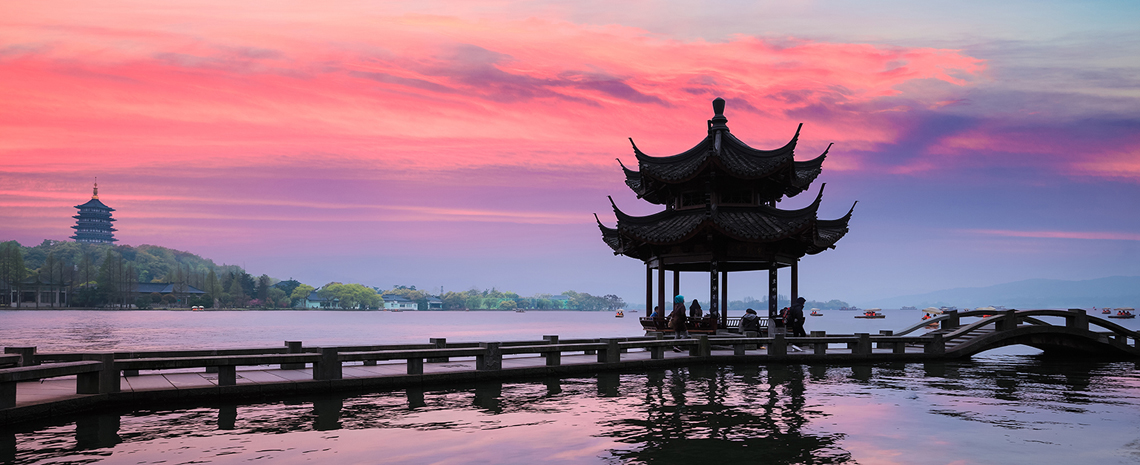 5-Day Shanghai, Hangzhou and Watertown Culture Tour
From: $799
Photography
Relaxing
Culture
This tour covers the most unique water town – Nanxun Ancient Watertown – and the essence of Shanghai (a vigorous modern city mixing East and West) and Hangzhou (a city of culture).
Highlights
Experience the luxury and elegance of the Bund by taking an in-depth Bund Culture Discovery tour
Take a bird's-eye view of the city on the 360° glass viewing platform of the Oriental Pearl TV Tower
Enjoy a relaxing cruise on West Lake and visit the beautiful island on the Lake
Explore Lingyin Temple, the oldest temple in Hangzhou, constructed about 1,600 years ago
Have some cultural experiences, including making your own writing brush, learning to write your Chinese name and trying your hand at the oldest form of Chinese printing
Take a rowing boat in Nanxun Watertown, and participate in a wedding on the water
What's Included
Entrance to attractions and villages in the itinerary
Private transfers between airports, attractions, villages, and hotels
Private tour guide and driver service throughout the tour
Meals in the itinerary
Hotel accommodation with breakfast
Price Per Person in US Dollars
| Apr.1 - Oct.31 | 4-star | 5-star |
| --- | --- | --- |
| 2-5 Persons | $849 | $1,159 |
| 6-9 Persons | $559 | $869 |
| Nov.1 - Mar. 31 | 4-star | 5-star |
| 2-5 Persons | $799 | $1,089 |
| 6-9 Persons | $509 | $799 |
Suggested Itinerary
Accommodation in: The Bund Hotel Shanghai (4-star)/Radisson Blu Hotel Shanghai New World (5-star)
Your private guide will be ready to meet and greet you at airport arrivals. A comfortable private car (non-smoking) with experienced driver will transfer you directly to the hotel. Your guide will help you check in. We take the stress out of travel, so you can enjoy China more.
Evening Ideas:
During a typical day, your guide will be with you between 9am and 5pm. The evenings are yours for exploration or relaxation. You can ask for ideas and recommendations from your guide (an expert on Shanghai).
Nighttime on the Bund is beautiful, and the best way to enjoy the night lights is by taking the Huangpu River Cruise.
Meals: breakfast & lunch
Accommodation in: The Bund Hotel Shanghai (4-star)/Radisson Blu Hotel Shanghai New World (5-star)
The best way to become acquainted with Shanghai is to have a walk along the Bund. The 2.5-hour In-Depth Bund Culture Discovery tour will bring you back in time to the Bund's golden age of the 1920s, helping you experience something of its luxury and elegance.
During the tour, you will learn the historical background of the Bund, find out about special features of its buildings, and hear some interesting stories that you'll never find in history books. We'll also prepare some drinks and postcards for you.
The Yu Garden is your next destination. This is a traditional Chinese garden, with buildings displaying traditional Chinese architecture. The area around the City God Temple used to be a venue for Shanghai people to celebrate festivals, and now it's a 'heaven' for tasting Shanghai snacks.
You'll have lunch at the Home's Restaurant, which specializes in Shanghai cuisine using the best local ingredients! Smoked fish and red jujube with sticky rice are well-known Shanghai fare. The restaurant enjoys a great reputation with diners from many parts of China and abroad.
If you are a thrill-seeker, don't miss the 360° glass viewing platform on the Oriental Pearl TV Tower! This is Shanghai's major landmark, standing across the Huangpu River from the Bund. You will browse through Shanghai's history in the Shanghai History Museum, located on the ground floor.
Interesting facts about the Bund:
The first foreign building on the Bund was built in: 1851
Number of heritage buildings remaining on the Bund: 22
The first modern upmarket Bund restaurant, the M on the Bund, was opened in: 1999
Approximate number of wooden piles supporting the Fairmont Peace Hotel: 1600

Day 3
Hangzhou Highlights
Meals: breakfast & lunch
Accommodation in: Haihua Hotel Hangzhou (4-star)/Sofitel Westlake Hangzhou (5-star)
After a western breakfast at your hotel, your private guide and driver will escort you to Shanghai Hongqiao Railway Station with pre-booked train tickets, and then you can experience the speed of one of China's fastest trains – a bullet train to Hangzhou. The journey takes about 50 minutes, and your tour guide in Hangzhou will be ready to meet you at the train station exit.
Although located in the centre of the city, Lingyin Temple is like an uncontaminated land far away from the busy world. It is the oldest temple in Hangzhou and is believed to be the most effective one. Devout pilgrims come to visit from all over China; you too can burn 3 incenses to the Buddha and make a wish.
Move on to Hangzhou's iconic West Lake. Take a cruise to the island on the lake and enjoy the comfortable breeze from the water; a good way to relax.
Have lunch at the Zhangshengji Restaurant, a popular old Hangzhou restaurant with the philosophy that food doesn't have to be fancy or to use exotic ingredients to be delicious. Duck casserole and West Lake vinegar fish are the first dishes that come to mind for most people when Zhangshengji is mentioned.
Tea culture is an important part of Hangzhou, and in the afternoon you will visit the Meijiawu Tea Plantation. This tea village is located behind West Lake Park and it is probably the most important base for tea production in the area. This is a beautiful natural environment. Just relax and enjoy the special tea culture, sipping the fragrant tea while appreciating the beautiful village scenery.
Good to know:
An alternative for people who have no interest in temples: Bike around West Lake and experience local life in the morning. The cycle route around West Lake is a relaxing route with picturesque scenery.
Day 4
Cultural Experiences in Nanxun Watertown
Meals: breakfast & lunch
Accommodation in: The Bund Hotel Shanghai (4-star)/Radisson Blu Hotel Shanghai New World (5-star)
After breakfast at your hotel, prepare to learn some culture and to have a relaxing boat ride in Nanxun Watertown!
Drive 1½ hours from Shanghai. Although it is less famous than other water towns near Shanghai, Nanxun Watertown is the most original and unique such town. It is full of life and culture, and less commercial than other water towns.
At Liu's Garden (Xiaolianzhuang), you will see the traditional procedure for making Chinese writing brushes, and you will have a chance to make your own writing brush. Learn to write your name in Chinese. Then take a rowing boat to visit the former residence of Zhang Shiming, a super-rich man from the past.
The Zhangshiming former residence is also known as the "top private residence of the Jiangnan region", and is one of few such residences remaining that retain their original appearance. It combines Chinese and Western architecture, with 150 rooms and many gardens, lanes, and bridges.
Chinese block printing is another old technology for making books. You can try your hand at printing; and use your own brush to write your name in Chinese – that will be a beautiful piece of art.
Have lunch at a local restaurant by the canal in the water town. Take a break and observe the life there – you will see local women washing clothes by the canal and preparing lunch, and children chasing each other.
There will be a wedding performance on the water, showing how a traditional wedding was conducted in the water town. If you like, you can take part and play the bridegroom!
After the fantastic experience in Nanxun Watertown, we'll drive to Shanghai and your guide will help you check in at your hotel.
Wedding performance on the water:
There are 2 performances per day as long as it is doesn't rain. If you would like to play the bridegroom at the wedding, an additional fee will be charged.

Your driver and guide will meet you at your hotel and take you to the airport. Your guide will assist you with your luggage and check-in to ensure that you will have a stress-free departure. We trust that you have enjoyed your time in China and look forward to serving you again. Have a pleasant flight home.

Trip Notes

Customizing the Tour — According to Your Needs

This tour is very flexible. You can alter the itinerary, extend or shorten it to suit your schedule. If you prefer other water towns, feel free to let us know!

144-Hour Visa-Free Transit Policy

A short stay (up to 6 days) in Shanghai and surrounding cities is more convenient now, for there is no need for a visa! Since Jan. 30th 2016, citizens from 51 countries can transfer in China via any of the following ports of entry – Shanghai Pudong International Airport, Shanghai Hongqiao International Airport, Shanghai Port International Cruise Terminal, Shanghai Wusongkou International Cruise Terminal, Shanghai Railway Station, Nanjing Lukou International Airport, or Hangzhou Xiaoshan International Airport – without Chinese visas, by producing their own valid international travel documents and onward air/ship/train tickets to a third country (region), with confirmed date and seat within 144 hours of arrival; and can stay within the administrative precincts of Shanghai municipality, Jiangsu Province and Zhejiang Province for up to 144 hours.

Guiding Service

Your personal tour guide will accompany you throughout the tour, providing guidance and local knowledge. He/she will be ready and willing to help you solve any problems that may arise while on the tour.

More Trip Information

Want to learn more about this trip? Please click here to see details about traveling in China, booking, payment and responsible travel.