Blue Whale Cruise
Select your cruise dates
2

Book

3

Expert reply

4

Your cruise is ready!
Select your cruise dates
(price per person, twin sharing basis)
China Highlights offers instant Yangtze cruise online bookings! Pay now to avoid price rises, get FREE UPGRADE for better views, and enjoy our VIP service. Deck Upgrade: The prices are based on the standard cabin. Customers need to pay an additional fee (RMB 200 to RMB 600) based on the floor of the ship.
Note:
1.Child Price Reductions (Based on Full Prices): babies (0–2) occupying a bed 90% off; children (2–12) NOT occupying a bed 25% off; extra bed 25% off
2.Prices may vary according to your travel time and are higher than above price list during Chinese National Holiday (10.1.-10.7, 2017) and Chinese Spring Festival (2.16.-2.22, 2018). Contact us for the detail price.
3.Tipping - All passengers (not include Yangtze Gold Cruises) sailing between Chongqing and Yichang are required to pay $23/RMB150 per person as service charge. The service charge is payable at the time of boarding.
Cruise
Map & Itinerary

| Day | Events & Activities |
| --- | --- |
| Day 1 | Board the ship from 17:30 to 21:30 for overnight accomodation(Dinner is not included). |
| Day 2 | Shore excursion on Shibaozhai (08:00–12:00). Optional tour to Fengdu Ghost City (8:30am-12:00pm, RMB260 per person). |
| Day 3 | Shore excursion on Shennv Stream (12:30am–16:00pm).Before that you have the option of visiting the White Emperor City(7:30-10:00am, RMB260 per person). |
| Day 4 | Have buffet Breakfast on board, and disembark at Maoping pier of Yichang. Shore excursion to the Three Gorges Dam Site Take a bus to Yichang say goodbye. |
| Day | Events & Activities |
| --- | --- |
| Day 1 | Arrive at Maoping Pier from Yichang to board the ship. (Dinner is not included). |
| Day 2 | Visiting Three Gorges Dam Site. Optional tour to Three-Gorges Tribe Scenic Spot(RMB260 per person). |
| Day 3 | Shore excursion to Shennong Stream(8:00-12:00), optional tour to White Emperor City(RMB260 per person). |
| Day 4 | Shore excursion to Fengdu Ghost City (8:00-12:00). |
| Day 5 | Arrives in Chongqing at 08:30. |
Note: The fee of the optional tours should be paid by cash or credit card on board.
Cruise
Introduction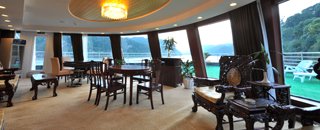 First Navigation: 1995
Latest Renew: 2010
Length: 96.5m
Width: 16.4m
Passengers: 208
Blue Whale, a five-star Yangtze cruise ship, really looks like a blue whale, due to the external decoration of its hull. Its internal decoration is luxurious, with the full range of luxury cruise facilities.
After lengthy refurbishment and modification Blue Whale has become more luxurious. Spacious rooms with private balconies allow passengers to enjoy the natural scenery of the Yangtze River, while offering comfortable accommodation. The expansive public area offers the perfect setting for rest and recreation, where passengers can feel closer to nature.
The restrained luxury is sophisticated, but not too ostentatious. Each room has plenty of space and a large bed. You can relax on the walking deck, sunbathing in the deck chairs and breathing in the breeze. The cruise's professional service is full of hospitality and attention to detail. You will be surprised by the delicious Western food and Chinese food, especially the authentic Sichuan dishes and Huaiyang cuisine.
Facilities: business center, meeting room, sauna room, fitness center, reading room, treatment room, indoor viewing hall, sunshine room, coffee house, chess and cards room, song and dance hall, multifunctional hall, beauty salon, massage parlor, bar.
Note: The staff on the ship can prepare vegetarian food for our customers. Please inform our travel advisor if you want vegetarian food on the ship. Take care of your belongs when you disembark and go upstairs. Your guide will pick you up at the exit.
Want a stress-free and time-saving way to get to the cruise Port from the airport? China Highlights can provide you with comfortable private transport straight to the Port. Contact us and we can also help you arrange your Yangtze cruise.
Transport Map: Chongqing Jiangbei Airport to Chaotianmen Port, Chongqing North Railway Station to Chaotianmen Port, Yichang New Century Port to Yichang Sanxia Airport
Deckplans
Info
5F: Recreation Deck (Sun Deck)
4F: Bridge Deck (Guest Room, Reading Room, Foot Massage Center, Shopping Center, Clinic Center, Sun Deck, Multi-function Auditorium)
3F: Promenade Deck (Guest Room)
2F: Upper Deck (Lobby, Dining Restaurant, Shopping Center, Guest Room, Business Center, Beauty Salon, Gym)
Shore Excursions