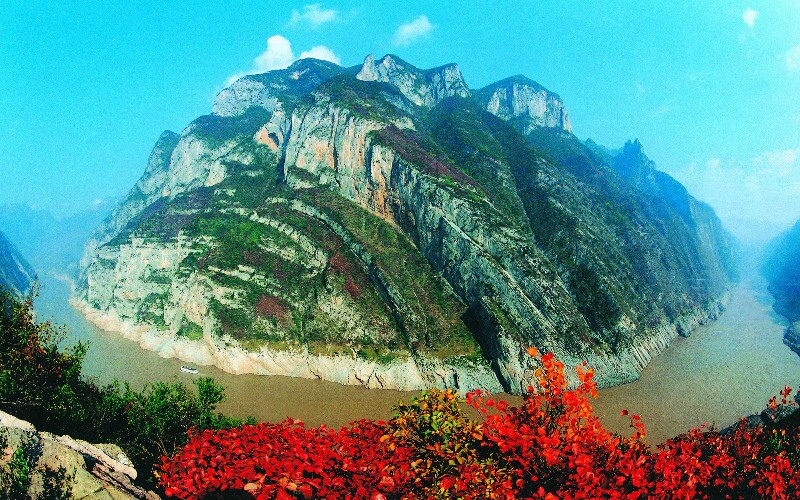 yangtzecruise
How to Plan a Yangtze River Cruise
When planning a Yangtze River cruise it is good to know the differences between upstream and downstream cruises. China Highlights' travel advisors can help you create unforgettable memories and fit the cruise perfectly into a travel package of your choice.
The Best Time for a Yangtze River Cruise
Spring and autumn are the golden seasons to take a cruise on the Yangtze River, when the weather is comfortable and the scenery along the Yangtze River is stunning and colorful. April, May, September, and October are the best months to go. However, the prices during these high seasons are higher than other seasons. See our Yangtze cruise calendar for 2016.
Upstream or Downstream
A downstream cruise of the Yangtze River (from Chongqing to Yichang) is one day shorter than an upstream cruise (from Yichang to Chongqing). On both routes, you can extend your excursion to visit the historic and cultural places along the river.
A map of the Yangtze River cruise route

Choose a Cruise Ship
There are more than 20 cruise ships on the Yangtze River, among which the Century Cruise and President Cruise ships are luxurious and exquisite. President 7, President 8, Century Paragon, and Century Legend are the newest cruise ships, which made their first voyages in April and May, 2013.
Yangzi Explorer is the most deluxe cruise ship among all the Yangtze cruise ships. The service, decorations, food, and facilities are the best. The Jade suite and higher level cabins all have a coffee machine, which is unique to Yangzi Explorer.
They can also provide unlimited Wi-Fi in the lounge and lobby, free flowing wine and local beer before dinner, snacks throughout the day in the lounge, and complimentary cold and hot beverages as their VIP service. They also have T-shirts and hats as gifts.
Family friendly: Yangtze 2
Luxury: Yangzi Explorer, Century Legend, Century Paragon
Best value: President 8, President 7, Victoria Jenna
Choose a Yangtze Cruise Cabin
Choosing a suitable cabin is very important for a perfect Yangtze cruise. China Highlights' travel advisors can help you choose a cruise cabin to suit your budget and requirements. There are four essential factors: the ship's star rating, the ship's refurbishment history, cabin types, and cabin locations.
Among all the Yangtze cruise ships, Century Cruise and President Cruise ships' cabins are bigger and well decorated.
Yangtze Cruise with Kids
For families who take a Yangtze cruise, there are many fun activities that kids can enjoy on the ship.
Children's playground: Some cruise ships have children's playgrounds. Although they are not very big, kids can enjoy themselves in them.
Swimming: Most of the Yangtze cruise ships have a swimming pool on the lower floor. If your kids are interested in swimming, remember to pack their swimming suits for your Yangtze cruise.
Watching movies: Besides the Yangtze River history movie and some movies for adults, the ship may offer some cartoon movies for kids.
Shore excursions: During shore excursions, especially the little stream cruises and historical sites with stairs, parents should pay more attention to their children's safety.
Learning Chinese Mahjong: Some cruise ships can offer Mahjong lessons. Mahjong is an interesting and special game in China, which is especially popular in Sichuan Province.
Evening welcome performance: If your kids like interactive activities, take them to the evening welcome performance. They may win some gifts as souvenirs of the Yangtze cruise.
Yangtze Cruises for Seniors and Physically Challenged People
A Yangtze cruise is ideal for seniors, because it is a relaxing and comfortable tour option. On the cruise ship, elevators and stairs are convenient for seniors to be able to stroll around. Physically challenged people don't need to worry either. If the elevator can't take you to the top deck, you can ask the staff on the ship to help.
Recommended Activities for Seniors
Watching movies: Learn the history of the Yangtze River while watching the film. Indulge yourself and have a cozy morning in the cinema watching other new movies.
Evening welcome performance: An interesting and stunning welcome performance by the cruise staff is the best activity in the evening. Have a drink in the multifunctional hall.
Chinese medicine speech: You can gain some knowledge during the Chinese medicine speech given by experienced Chinese doctors.
Shore excursions: Please note that some shore excursions may have many stairs to climb, including Shibaozhai. We recommend that seniors go to Three Gorges Dam, Lesser Three Gorges, Shennv Stream, and Shennong Stream.
Yangtze Cruises with China Highlights
The advantage of a cruise as part of a tour package is that we can tailor-make a personal China experience for you with all the tour components fitting together perfectly. You could start by choosing one of our Yangtze cruise packages and customize it to suit you.
Our tour packages allow you to see more of China, such as Beijing, Shanghai, and Zhangjiajie. If you book a cruise alone we suggest also booking at least the transfer from your hotel to the ship with us, so that we can guarantee a smooth check-in.
Recommended China Tours Including a Yangtze Cruise
12-Day Majestic Yangtze: The essence of China is there to be discovered alongside the majestic Yangtze River cruise. Enjoy the nice breeze from the river and have a cup of coffee; just relax.
A Close Experience with Pandas: With comfortable accommodation and transportation, the tour features a close experience with giant pandas in Chengdu but also includes the famous Golden Triangle and the Yangtze River cruise.
Memories of China with Yangtze Cruise and Tibet: Create memories with this China tour covering all the highlights: Beijing, Shanghai, Xi'an, Tibet, and a relaxing Yangtze River cruise.
Related Articles

travel guide
The Top 10 China Travel Destinations in 2021

about us
Company History