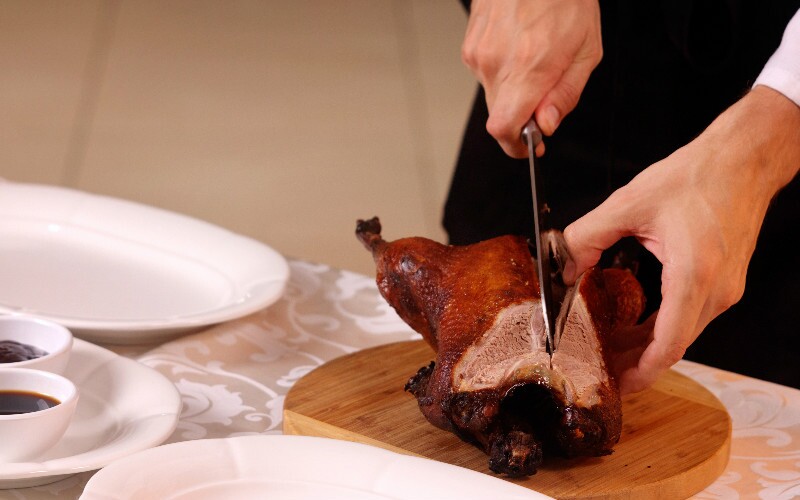 beijing
Beijing Roast Duck: History, Recipe, Menu, How to Eat It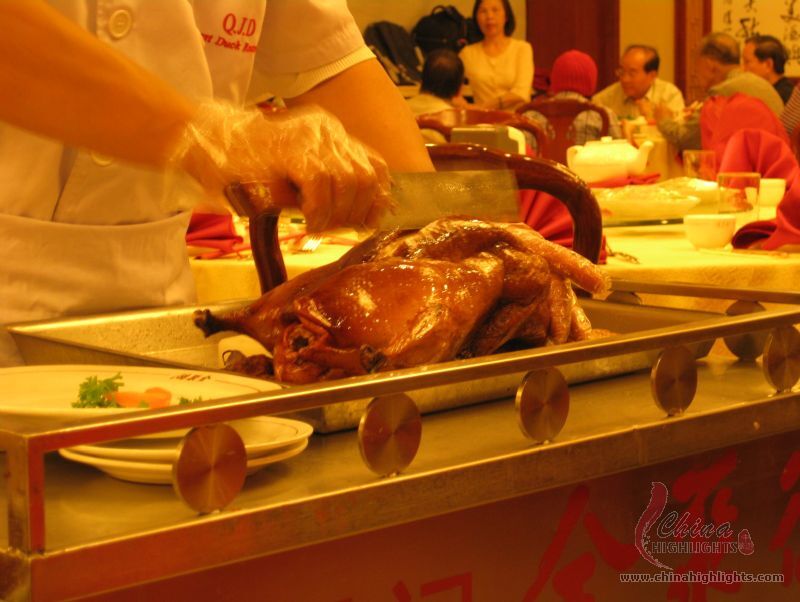 The bright red color signifies
delicious
to duck connoisseurs.
Beijing roast duck is Beijing's best and most famous dish. Not only tourists but high-ranking government leaders make it a point to eat Beijing roast duck.
For a legendary taste and dining experience, here is our guide about Beijing duck: its history, recipe, sample menu in Chinese and English, and recommendations about where to dine and how to dine.
The Famous Roast Duck of Beijing
Beijing duck is so famous, especially in Beijing, that it is called "the first dish to taste in China." During the 1970s, roast duck actually became a national symbol for the country. Roast duck is highly praised by heads of state, government officials, and domestic and foreign tourists.
The former US government leader Dr. Kissinger, for instance, was extremely fond of Beijing Roast duck. The Bush family members, the family of two former US Presidents, are widely known to be real Beijing roast duck lovers. President Bush Senior worked in the US Embassy of Beijing where he started going to functions catered by the Quanjude restaurant. Kissinger and Bush popularized the dish in the US.
Other famous people who have dined on roast duck include a former Filipino president, a Thai Queen, princes from Saudi Arabia, and US generals Powell and Rice. You can see hundreds of pictures of famous people hanging inside the restaurant.
The History of Roast Duck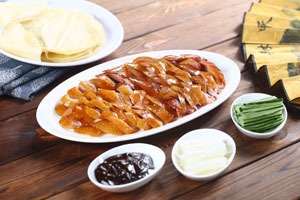 Roast Duck
Duck is a traditional meat in China, and the dish was once called "shāo yāzi" (燒鴨子). It was mentioned in the Complete Recipes for Dishes and Beverages (飲膳正要) manual in 1330 by Hu Sihui (忽思慧) who was an inspector for the imperial kitchen.
In the Ming Dynasty, Peking duck was one of the main dishes on imperial court menus. The first roast duck restaurant, Bianyifang (便宜坊), opened near Qianmen in Beijing in 1416. Then Quanjude (全聚德) was opened in 1864. His roast duck dishes were distinctive in that they innovated roasting the ducks in huge open ovens fed with fruit tree wood. Bianyifang, in contrast, still employs traditional smaller closed ovens.
Beijing roast duck (also known as Peking duck) has been eaten since Imperial times, its first mention dating back to the Yuan Dynasty (1279–1368) when it appeared in a text written by an inspector of the Imperial kitchen. 
During the subsequent Ming Dynasty (1368–1644) roast duck was regularly included on the imperial menu. In 1416 the first known restaurant to specialize in roast duck opened in Beijing called Bianyifang. There they roasted the duck in a closed oven having first heated the walls of the oven using sorghum stalks to give a crispy finish to the duck. 
In 1864 another famous duck restaurant opened called Quanjude. There they used a different method of cooking by hanging the duck to roast over flames in an open brick oven. Versions of these two restaurants still exist today, so we recommend you try at least one of them whilst you're visiting Beijing.
Duck Dishes
Nearly every part of the duck can be prepared as food. Quanjude Roast Duck Restaurant serves the so called All Duck Banquet, in which the bone of the duck together with cabbage and Chinese water melon is made into a fresh white soup and is served at the end of the banquet. We highly recommend you to try the soup as it's not only tasty but Chinese people swear by its nutritiousness too.
This list below will help you identify items on a menu and tell the waiter what sort of duck dish you want. The Chinese characters are shown after the English name.
| English Name | Characters | Pinyin | Pronunciation |
| --- | --- | --- | --- |
| Beijing Roast Duck | 北京烤鸭 | Běijīng kǎoyā | bay-jing kaoww-yaa |
| Duck tongues with assorted vegetables | 条菜拌鸭脷 | tiáo cài bàn yā lì | tyaoww tseye ban yaa lee |
| Duck wings with coriander | 香荽鸭翼 | xiāngsuī yā yì | sshyang-sway yaa ee |
| Gaoyou fried crispy duck | 高邮香酥麻鸭 | Gāoyóu xiāng sūmá yā | gaoww-yoh sshyang soo-ma yaa |
| Shredded roast duck with jellyfish | 费海蜇拌火鸭丝 | fèi hǎizhē bàn huǒ yā sī | fay heye-jer ban hwor yaa srr |
See more names of kinds of duck dishes on Duck Menus.
Beijing Roast Duck Eating Tips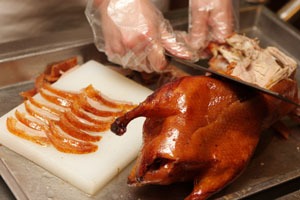 The chef can slice the duck up into 100 pieces.
The manner of serving and eating Beijing duck is also unique. The chef presents you the whole duck before taking it away for slicing, or at some restaurants slicing it in front of your table. One duck may produce about 120 very thin slices, each containing both meat and skin. The duck slices are brought back to the table with some thin pancakes, green onion or shallot, plum sauce and fresh cucumber, and sometimes garlic paste and sugar. 
Condiments and Side Dishes
People never eat roast duck only during a meal. The restaurant has standard side dishes and condiments that are now traditional. Each restaurant presents its own selection of side dishes and condiments such as cucumber sticks and various house specialty sauces.
The duck slices might be presented at the table with selections such as thin pancakes, green onion, shallot, plum sauce, fresh cucumber, garlic paste and sugar.
The usual condiments are sweet plum sauce (梅酱 méi jiàng), cucumber and sugar (糖和黄瓜 táng hé huáng guā), mashed garlic (大蒜 dà suàn) and scallions (葱 cōng). Other condiments you could add are sugar and mashed garlic.
The usual side dishes are hollow sesame biscuits (芝麻饼 zhīmabǐng) and thin pancakes (春饼 chūn bǐng).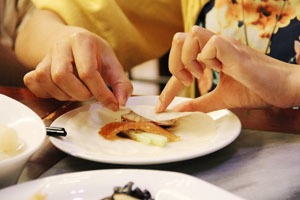 Here, the guest is wrapping the duck and condiments in the pancake.
The best way to eat the duck is to take a pancake in one hand, then with your chopsticks pick up a slice of duck and coat it in the plum sauce. Spread the sauce onto the pancake using the duck, then add some more slices of duck and some cucumber and green onion. Finally roll up the pancake and eat it with your hands – delicious!
Best Seasons
According to Chinese medicinal cuisine theory, roast duck is best eaten in the spring, fall and winter seasons. This is because ducks are tender and fast in the winter and the spring, and in autumn, there is a proper temperature and humidity for roasting. In the summer, there is much humidity and it is hot, and people don't like greasy food.
Beijing Duck Cooking Method and Recipe
The duck must be of the white Beijing variety and of superior quality, a "force-fed duck" that weighs about three kilograms. When roasting the duck, compressed air is injected into the duck between its skin and flesh to make the skin glossy and shiny. By using less smoky, hard wood fuel like fruit tree branches (pear, peach or date branches for instance), the duck has a fruity flavor and is red in color.
A duck can take up to three days to prepare so we don't recommend you to try cooking this at home! On day one the duck must be washed and the neck bone removed without breaking the skin, then hung to dry overnight. On day two after injecting air into the duck it must be blanched to start rendering the fat, then once again hung to dry with a glaze added to the skin. On day three the duck is ready to roast.
Home Cooking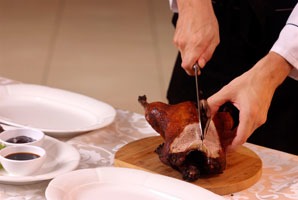 It is difficult to make real Beijing duck whether by the Quanjude style or other traditional styles. For the Quanjude method, preparation is difficult because it requires that the skin be separated from the meat by forcing air with a pump between the skin and the meat. Real Beijing duck in the Quanjude style requires cooking over fruit tree wood such as pear or jujube to impart a special flavor and aroma.
But here are our recommendations for home cooking:
Make a small hole, and take out the viscera. Then pour boiling water into the hole and tie the hole up. Put the duck in boiling water for 30 seconds. Then hang up the duck and let it dry. Once dry, brush Chinese-style maltose syrup on it, and then if possible, hang it in oven with the water still inside at approximately 270 °C (525 °F) for 30 or 40 minutes or until fully cooked.
Since the duck's belly is full of water, the duck's skin bulges and won't go soft when cooked. Chinese think that the most delicious part of the duck is the skin.
Recommended Beijing Roast Duck Restaurants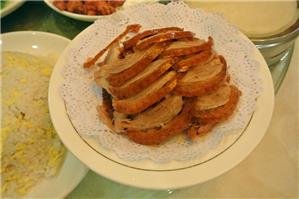 Roast Duck Slices
Quanjude Roast Duck Restaurant (全聚德 Quánjùdé) is by far the most famous roast duck restaurant around the world because it has long been chosen by the government for dinner functions for government leaders of other countries. In Beijing, there are about 10 branch restaurants, and some can seat more than 1,000 people. There are many other branches in China and internationally including one in Hong Kong and several in Shanghai such as at Pudong and Zhabei.
Bianyifang is another famous duck restaurant. It is 600 years old, and it should be more famous than Quanjude since it is much older than its main competitor and is known as one of the 8 oldest restaurants in Beijing. But it is much smaller. Their Menlu method of roasting is said to create a crispier, richer taste. Along with duck dishes, they have a wide variety of other top gourmet dishes served with "old school" soups and veggies. Bianyifang is the one-stop for those hoping for a taste of authentic traditional dishes. It is listed as one of the Best 6 Places in Beijing for Roast Duck.
Address: Chongwenmen, Hedemen Hotel
In Shanghai, we recommend Da Dong Roast Duck 大董烤鸭
Address: 999 Huaihai Middle Road 淮海中路999号 (Inside IAPM Mall)
Eat Authentic Beijing Duck on Our Beijing Tours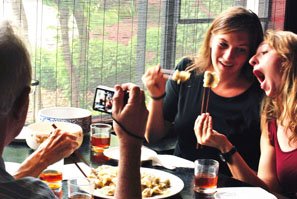 Enjoying Chinese food in a local restaurant.
Our Beijing tours, almost without exception, include a chance to eat roast duck. On a tour with us to China, we'll take you to the Beijing Duck restaurant that our expert guides think would be best for you in the cities you travel to.
Our Private 4-Day Emperor's Tour of Beijing will take you on a journey back to Imperial times. You'll visit the key residences of the Emperors', learning about life during the various dynasties and feasting on imperial dishes including roast duck.
If you want to taste authentic Chinese food, see our most recommended Chinese food tour below for inspiration:
Or contact us and let us create a China tour for you according to your interests and requirements.
You Might Like to Read
Related Articles

beijing
How to Plan a Trip to Beijing

feedback
China Highlights Tour Reviews