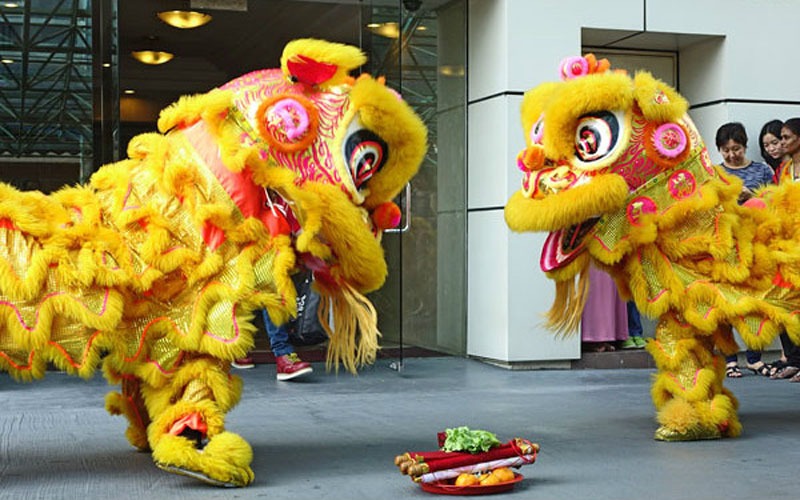 weather
Guangzhou Weather in February
Weather: The weather is quite changeable in February. Until around the middle or end of the month it generally feels cool and dry and quite pleasant. But then the weather usually changes dramatically, and the monsoon rains start, and it is rainy and damp. There is about 11 days of rain in the month and about 70 mm of total rainfall. The average low and high temperatures in February are respectively 11 °C (52 °F) and 19 °C (66 °F). See the current weather and forecast>>
Clothing: A long-sleeve shirt or blouse and a sweater or water resistant light jacket are enough. An umbrella is useful.
Things to Do

Chinese New Year falls in the beginning or middle of February two out of three years. It is the most important traditional festival for Chinese people, and is the best time to experience authentic Chinese traditional culture. Guangzhou is one of the five best cities in China for the Chinese New Year holidays.
The Guangzhou flower fairs, full of various plants and blossoms, are the highlight of the holidays. They usually start three days before the Spring Festival, and climax on the Eve. Folk artists entertain the crowds, and local artists also demonstrate their skill and sell their paintings and calligraphy. The major flower fairs in Guangzhou are Xihu Flower Fair, Donghu Flower Fair, Liwan Flower Fair, and Tianhe Flower Fair. Guangzhou is sometimes called the "Flower City" in China for its blooming gardens all the year round. See more about Guangzhou's Flower Fairs>>
Fireworks and more: Have fun with fireworks, try holiday food and snacks, buy tourist souvenirs, and experience the customs. On New Year's Eve, a public display explodes over the Pearl River downtown.
Enjoy a Pearl River Cruise: Dine and see the highlights of the riverfront at the same time. During Chinese New Year, you can see the fireworks too. The buildings along the river are brightly lit up. See one of the world's tallest towers along the river.
See the Chen Ancestral Clan Academy: It is one of the top favorite sites for foreign tourists in Guangzhou. It is a museum in a building that is now a protected site for Qing Dynasty era architecture. Enjoy the gardens, seeing the decorative details on the many buildings and watching craftsmen create artwork on the grounds, and the quiet atmosphere.
Trade Fairs: In February there is the Sign China Expo and several fairs related to automobiles including the Guangzhou International Auto Motor & Electrical Appliance Exhibition.
Shoulder Travel Season
February is sometimes a low travel season except around the Spring Festival holidays. Then it is the busiest tourist season, when people use the holiday to travel around. Flights, trains, and hotel rooms are fully booked, and tour prices rise much higher than usual. It is suggested that you place bookings well in advance. See our Chinese New Year Travel Guide.
Guangzhou Tours
China Highlights offers a range of Guangzhou tour packages. Our tours are developed through years of experience and customer feedback.
Further Reading
Guangzhou Average Daily Temperatures Based on Historical Data
Date
Average High
Average Low
February 1
64 °F
17.78 °C
50 °F
10 °C
February 2
64 °F
17.78 °C
50 °F
10 °C
February 3
64 °F
17.78 °C
50 °F
10 °C
February 4
64 °F
17.78 °C
50 °F
10 °C
February 5
64 °F
17.78 °C
50 °F
10 °C
February 6
64 °F
17.78 °C
51 °F
10.56 °C
February 7
64 °F
17.78 °C
51 °F
10.56 °C
February 8
64 °F
17.78 °C
51 °F
10.56 °C
February 9
64 °F
17.78 °C
51 °F
10.56 °C
February 10
64 °F
17.78 °C
51 °F
10.56 °C
February 11
64 °F
17.78 °C
51 °F
10.56 °C
February 12
64 °F
17.78 °C
51 °F
10.56 °C
February 13
64 °F
17.78 °C
52 °F
11.11 °C
February 14
65 °F
18.33 °C
52 °F
11.11 °C
February 15
65 °F
18.33 °C
52 °F
11.11 °C
February 16
65 °F
18.33 °C
52 °F
11.11 °C
February 17
65 °F
18.33 °C
52 °F
11.11 °C
February 18
65 °F
18.33 °C
52 °F
11.11 °C
February 19
65 °F
18.33 °C
53 °F
11.67 °C
February 20
65 °F
18.33 °C
53 °F
11.67 °C
February 21
66 °F
18.89 °C
53 °F
11.67 °C
February 22
66 °F
18.89 °C
53 °F
11.67 °C
February 23
66 °F
18.89 °C
53 °F
11.67 °C
February 24
66 °F
18.89 °C
54 °F
12.22 °C
February 25
66 °F
18.89 °C
54 °F
12.22 °C
February 26
66 °F
18.89 °C
54 °F
12.22 °C
February 27
67 °F
19.44 °C
54 °F
12.22 °C
February 28
67 °F
19.44 °C
55 °F
12.78 °C
February 29
67 °F
19.44 °C
55 °F
12.78 °C
Guangzhou Climate Information by Month
Related Articles

guangzhou
Top Free Things to Do in Guangzhou

about us
Company History