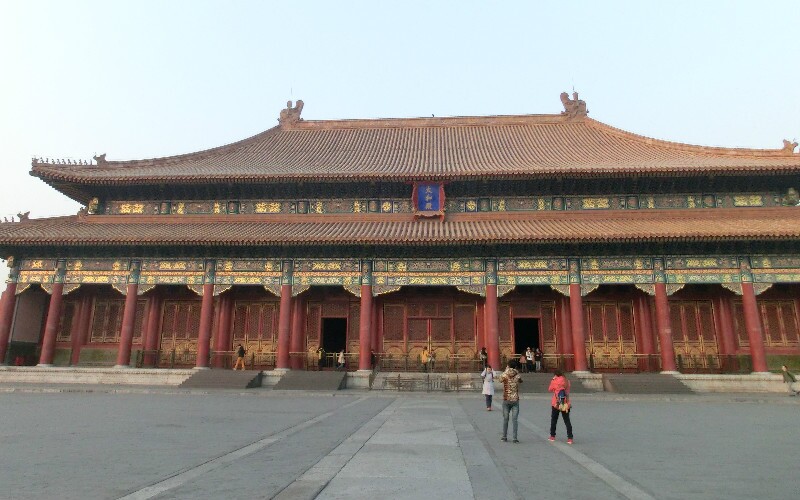 beijing
Hall of Supreme Harmony(Taihe Hall)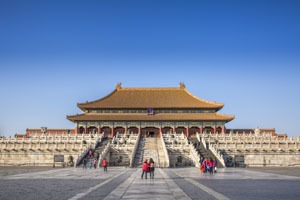 Hall of Supreme Harmony
Hall of Supreme Harmony is heart of the immense Forbidden City palace complex. It is the grandest and the most important building in the nation.
Hall of Supreme Harmony is translated to mean the Hall of Supreme Harmony and is also know as the "Hall of Gold Throne".
Architecture
The 35.5 meters high hall has a double-layered roof which represents the highest construction rank in the whole empire and thus is exclusively for the emperor. Covering a floor area of 2,377 square meters, the grand hall is the largest wooden structure in the world. No building in Beijing was allowed to be higher than it during the Ming and Qing Dynasties, because of its symbol of imperial power.
The Hall was used for grand ceremonies such as the Emperor's enthronement ceremony, the Emperor's wedding and the ceremony for conferring the Empress. During these occasions the Emperor came to the hall to receive congratulations from the civil and military officials. In addition, the Emperor met high-ranking officials and dispatched generals to the battles from this place.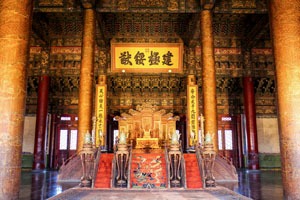 The Emperor's throne in Hall of Supreme Harmony
The hall has a variety of furnishings for the exclusive use of the Emperor. The Emperor's throne was placed on a two-meter high white jade dais in the center which was adorned with gilt and engraved with patterns of clouds and nine dragons.
The grand throne was surrounded by the six huge golden pillars, engraved with dragons representing the supreme dignities and power of the Emperor. Behind the throne was a carved gilt screen and on either side there are incense burners in the shape of the mythical unicorn signifying the obedience of all other kingdoms.
In front of the dais, there stand several bronze vessels, turtle cranes and cloisonné incense burners which combined to carry the message of eternity of the empire. The gilded caisson ceiling high above the throne has a magnificent sculpture of a twisting dragon playing with a huge pearl called Xuanyuan Jing. This represented the orthodox succession of the emperor's divine power and was believed to be able to ward off evils for the emperor.
The hall was built on a three-layered white jade platform. Below the balusters of the platform there are many marble dragon heads with open mouths. These beautiful sculptures also have practical usage: water discharge.
In front of the hall is a huge white marble sculpture with a picture called Two Dragons Playing with a Pearl. The pearl is a symbol of good luck, while the two dragons represent the God in the Heaven and the Emperor himself. This picture tells everybody that the Emperor receives his divine power from God.
Behind the Hall of Supreme Harmony is the Hall of Central Harmony.
Related Articles

beijing
How to Plan a Trip to Beijing