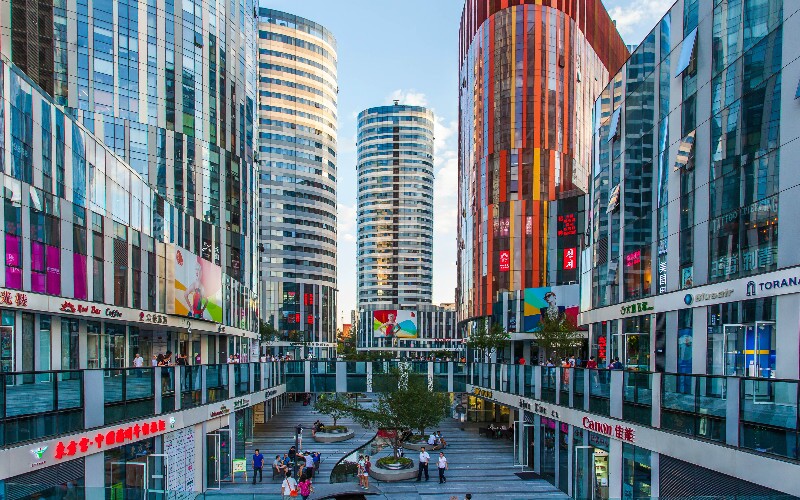 beijing
A "Scent Library" in Sanlitun Village, Beijing, the storage of smells
There are a variety of libraries and book bars in Beijing; however, in recent years, a "scent library" called Demeter has attracted attention in Sanlitun. 
It is not a traditional library for media such as books. It is instead for the storage of smells. The library has preserved different perfumes and various fragrances, including wet, earthy smells; fresh, laundry-room scents; the sweet taste of chocolate; and many more. With numerous fragrances in storage, it is just like a library containing thousands of delicate "perfume books." There are approximately 300 fragrances in the scent library, and the founders are happy to recall people's fond memories of the past through different smells.
Visitors are attracted to the furnishings as soon as they step into Demeter. With pure, white walls and furnished with all-white furniture, the interior of the shop is simple and decent. 
There are plentiful fragrance-testing boxes available inside. The fragrances are showcased in a cabinet resembling a big, white, traditional Chinese medicine cabinet. Multiple frames hold many unexpected fragrances, such as the scent of Play-doh, the taste of cream cake, and many more. The fragrances are all extracted from "real objects," basically originating from natural sources like vegetation, flowers, vegetables and fruits, etc.
The founders are two American men who possessed a scent collection of more than 800 fragrances. They were determined to make perfume by "connecting scent to memory." The inspiration of their creation comes from their lives, and it is to help people retrieve the scent memories that they have lost. The library brought several high-quality perfumes into China, such as Demeter, To the Scene, etc. These perfumes have broken the traditional concept of luxury brand perfumes by putting forward the concept that "the scent should be an experience … Demeter has dutifully recorded the original scent of the object itself and will transport people's minds into a different time and space in order to arouse the memories hidden deep inside their hearts."
Those perfumes embrace several themes, such as life, vegetables and fruits, delicacies, wines, plants, nature, specialty cuisines and more, including those hard-to-capture scents such as snow and dust. Sometimes we have the desire to smell familiar, old scents from our youth or another time. For example, the famous Japanese director Akira Kurosawa once said in his memoirs that when he was a little boy, he was often taken to the bathroom by his nanny in the dark. After he grew up, the scent of a bathroom would always bring him back to those early memories. It is surprising that it is possible to "catch" those fleeting smells and to place them into bottles, preserving those memories that are tied to the fragrances. But they can be captured, and those scents can then be shared with everyone at scent libraries such as Demeter.
"It is unexpected that I can smell again the scent of the laundry room. Because a long time ago, in the time when washing machines were not everywhere, we would go out to the laundry room to wash our clothes. People my age all have that memory in mind," said a middle-aged woman. Maybe one day the whole world will be polluted and people will lose lots of scents that we once knew. If that happens, perhaps the only way to experience these scents again will be through scent libraries such as Demeter.
In addition to people's interest in the scent library, some people expressed concerns. "It is acceptable to collect some normal scents. However, some special odors of particular objects such as earthworm, hemp, tobacco, etc. might have a bad influence on youngsters," worried one parent. Some worry that being in touch with certain odors coupled with children's strong sense of curiosity would lead them astray.
Let us help you make a tour in Beijing including the Scent Library.
Related Articles

beijing
How to Plan a Trip to Beijing