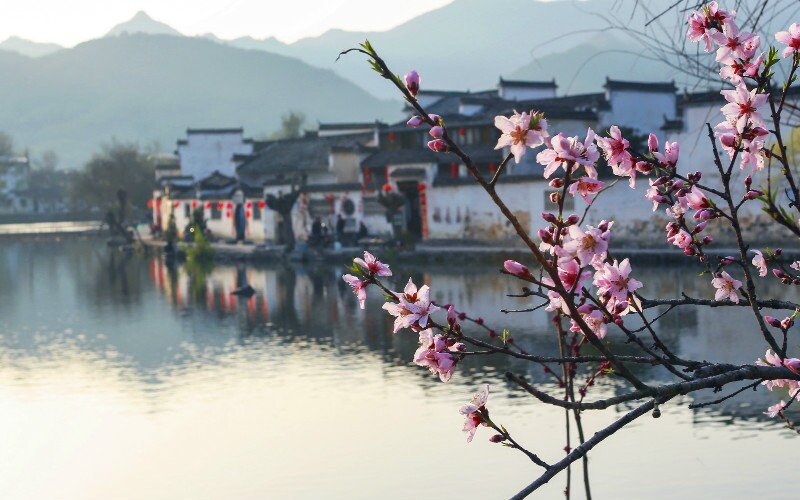 Shanghai
Shanghai Weekend Trips: 11 Refreshing 2-Day Getaways
Shanghai is a multi-cultural, cosmopolitan melting pot, and there is a lot going on in the city. With all the hustle and bustle that is constantly taking place, both visitors and expats might want to take a break for some fresh air and a much needed change of scenery. Our experts have compiled a list of the top 10 fun and convenient Shanghai weekend (or 2-day) getaways.
Content Preview
1) Suzhou: Venice of the East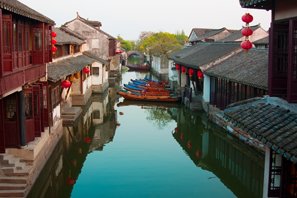 Zhouzhuang Water Town 
Known as the "Venice of the East," Suzhou is a beautifully landscaped city located in the center of the Yangtze Delta region that features picturesque water towns, classic gardens and traditional operas. Leisurely activities include boat rides, shopping, and eating. Only 25 minutes away from Shanghai by bullet train, Suzhou makes for an ideal weekend getaway. 
Getting there: There are frequent high-speed trains throughout the day from Shanghai to Suzhou
Recommended tours:
2) Get Enchanted at Shanghai Disneyland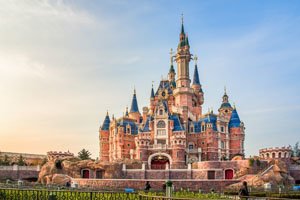 A weekend getaway that is fun for couples and families is Shanghai Disneyland. The park features six themed lands including Treasure Cove, a land inhabited by pirates, and Tomorrowland where you can ride the TRON roller coaster on a lightcycle. 
There are currently two themed hotels to stay at including the Shanghai Disneyland Hotel and Toy Story Hotel. There is also Disneytown just outside the park that is a blend of shopping and dining.
Getting there: You can take metro Line 11 and get off the train at the terminal station: Disney Resort. On arrival, take Exit 1 and walk about 5 minutes to the park.
Recommended tours:
Or contact us to tailor make a Shanghai tour for you. 
3) Relax by West Lake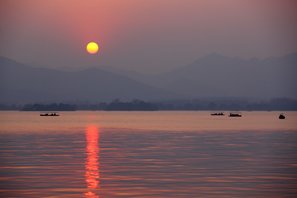 West Lake Sunset
West Lake is Hangzhou's tourist highlight, where people sightsee, ride bikes, stroll, relax, and enjoy idyllic landscaping. Some people like to float in the boats, while others enjoy the fine dining in the area. Impression West Lake is a favorite musical spectacle in the evening.
Getting there: It is possible to have a one-day trip to West Lake from Shanghai since bullet trains to Hangzhou take only an hour. See our customizable Hangzhou itineraries for inspiration.
Recommended tours:
4) Nanjing: China's Historical Southern Capital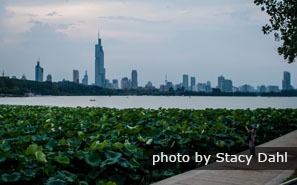 Throughout history, Nanjing has alternated with Beijing as the capital of big empires and modern governments. Today Nanjing stands as one of the Four Great Ancient Capitals of China and is a favorite destination among both tourists and locals. 
Nanjing's Purple Mountain offers many historical sites to see including various temples and mausoleums. Besides exploring Purple Mountain, there is the option to stroll around Xuanwu Lake, feast on Jinling Roast Duck and pay a visit to the Nanjing Massacre Memorial. Check out The Top 10 Things to Do in Nanjing. 
Getting there: By taking the high-speed train, you can expect to arrive in Nanjing within 1 hour.
Contact us to tailor make a Nanjing tour for you.
5) Hike the Yellow Mountains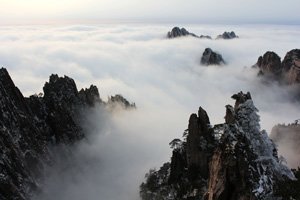 See the cloud sea at West Sea Grand Canyon.
Say the word Huangshan and many Chinese get starry eyed and talk about the peaks as if they are a cherished friend. The area is still treated like a holy site by many, and hiking up is a dream for many. 
The hike up the West Sea Canyon area is a strenuous, yet rewarding experience. It is one of China's iconic travel attractions. See how to climb this iconic mountain cluster and avoid the crowds.
Getting there: Tunxi Airport is about 70 kilometers (43 miles) from Huangshan. Taking a flight and then riding private transport to the mountains will make the trip less than five hours.
Recommended tours:
6) Moganshan National Park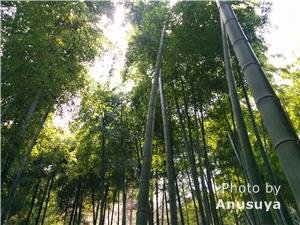 If you're craving fresh air and relaxation away from the crowded city, then Moganshan's bamboo-lined hills atop the mountain is the perfect option. You can expect to find beautiful, lush pine and bamboo forests and natural rock formations, as well as numerous hiking trails. The area is dotted with European-style villas that have been turned into guesthouses.
Getting there: The mountain is about a 1½ hour road trip from Hangzhou and a 3 hour trip from Shanghai. 
Contact us to plan a worry-free Moganshan tour. 
7) Wuzhen Water Town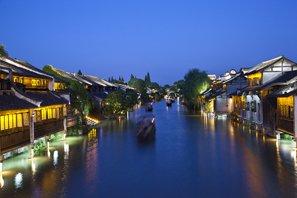 The night view of West Area, Wuzhen
Unlike Suzhou, Wuzhen offers its own spin on a Chinese water town. In the East Area you will find folk performances such as shadow plays, Huagu Opera, martial arts performances on boats and bamboo pole climbing. As exciting as the East Area sounds, the West Area offers an even better experience with its undeniably charming architectural features including colonnades, small bridges, balconies and piers. 
Getting there: The trip from Shanghai to Wuzhen consists of 40 minute bullet train ride and a 20 minute cab ride. In less than an hour, you can escape the bustling Shanghai and enjoy your weekend getaway in this charming water town.
Contact us to arrange a Wuzhen tour. 
8) Jingdezhen
Jingdezhen (/jing-der-jnn/), originally called Changnan, is a veritable porcelain capital in China, even in the world. It is about 1½ hours from Huangshan and 4½ hours from Shanghai by bullet train. 
Top Things to Do in Jingdezhen
Explore the world's oldest porcelain production line in Ancient Kiln Folklore Exhibition Area.
Try it yourself and make a ceramic work that is uniquely yours.
Encounter a potter in a pristine mountain village (Sanbao International Ceramic Art Village).
Visit the hometown of porcelain — Yaoli Ancient Town.
See our recommended 3-day Jingdezhen Porcelain Tour. Or contact us directly for more about Jingdezhen tours.
9) Chongming Island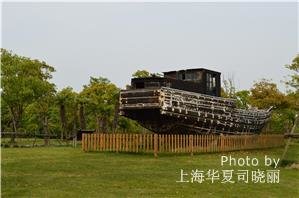 Although it is only a short bus ride away from Shanghai, this island may feel like a different world with its own unique language, cuisine and culture. The whole island is flat in terms of terrain, with fertile soil, luxuriant forests and abundant resources. As a result, Chongming Island has become a famous region where the cultivation of rice and the breeding of fish flourish. If you are fan of seafood, the island offers a number of ideal fishing spots, as well as crabbing, Chongming's popular past time. The clean air and water offers a refreshing opportunity for visitors to ride a bike around the wetland park. 
Getting there: It is only a one-hour drive from the center of Shanghai to Chongming Island thanks to the Shanghai Yangtze River Tunnel. 
Send a free inquiry for an escape to Chongming Island.
10) Anji's Bamboo Forests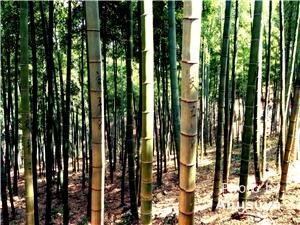 This off-beat, serene and green location is truly a perfect getaway from the contrasting hustle and bustle of Shanghai's metropolis city. Anji is a tranquil, lesser-known weekend getaway that is famed for being the place where the parts of the movie 'Crouching Tiger Hidden Dragon' were filmed. Here you will find a large, impressive bamboo forest and a lush, calm hiking trail. Another great attraction is the tea gardens — acres and acres of fresh tea bushes. Anji produces the region's white tea (白茶 báichá) — which is a must try while you are there.
Getting there: There are direct buses from Shanghai to Anji city, which take about 4 hours. These buses depart Shanghai South Railway Station from the south square terminal every hour from 7:10 am to 10:10 am.
Recommended tour:
11) Tantou Island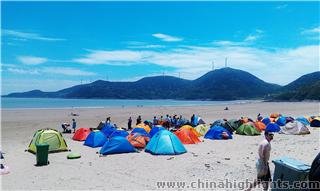 At Tantou Island, nothing is impossible. While you may have not expected this, you can get to this beach from Shanghai if you are ready for a 4-hour bus ride followed by a ferry ride. Although this may sound like a lot, It's well worth it. This small beach town is known for its stunning sunrise at 5 am. It's perfect for BBQing and tent camping out on the sand. The water is cold, but the beach can get very hot for sunbathing!
Getting there: There is about a 4-hour bus from Shanghai to Ningbo followed by a 35-minute boat ride from Shipu Harbor.
Send a free inquiry for an escape to Tantou Island.
We Can Help You See More Around Shanghai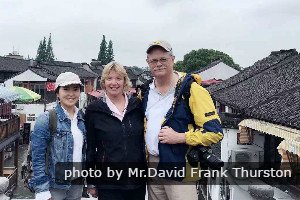 Our customers at Zhujiajiao Water Town
Instead of taking public transportation to these locations outside Shanghai, the quickest, most efficient, and perhaps most enjoyable way to enjoy these places is to go with a private driver and tour guide. The tour guide can quickly help you find good accommodations and help you find what you are looking for. China Highlights serves the most foreign visitors of any tour agency in the country, and our expertise is in helping our customers enjoy a private tour of the region.
Tailor-make a special trip that's just for you. All of our itineraries are customizable. Here are some more suggestions for a Shanghai visit, or weekend escape:
You Might Like