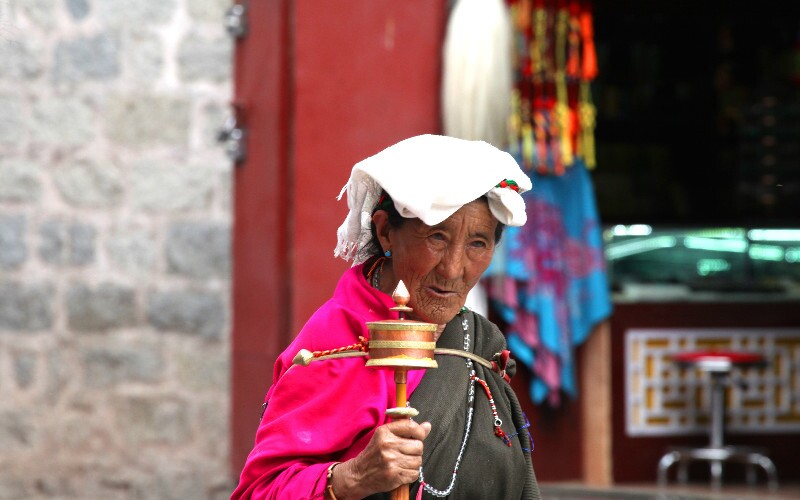 travel guide
The Tibetan Ethnic Minority in China

Tibetans mainly live in the Tibet Autonomous Region in west China and adjacent mountain ranges.
Tibet Reopens for Travel From May 9, 2021!

Scan the QR Code to contact us on Wechat!
Have you been dreaming of a Tibet tour for a long time? It's time to restart your travel plans now. Tibet reopens to China expats from May 9, 2021 after being closed for more than a year.
Contact us now to plan your tour and prepare your Tibet Travel Permit documents in advance. Don't worry about canceling. We allow free cancellation for any reason up to 24 hours before departure.
Contact us via WeChat: chinahighlightstour
Tibetans are perhaps China's most popular and mysterious ethnic minority. They live among the world's highest mountains on a vast beautiful plateau.
The Tibetan ancestors once had a powerful empire about 1,400 years ago, and after that, Tibetans vied for control of Central Asia with Han Chinese and Mongols. Now, there are about 7,000,000 Tibetans, and they are one of the biggest of China's 55 ethnic groups.
Tibetans don't only live in Tibet. They also live in several Chinese provinces west and northwest of Tibet. Tourists like to go to many Tibetan areas, such as Lhasa, Jiuzhaigou, and Shangri-la.
Where Tibetans Live in China
With a population of about 7 million, the Tibetan people live mainly live in the Tibet Autonomous Region in southeast China and in the neighboring provinces of Qinghai, Gansu, Sichuan and Yunnan.
Read more about Travel Beyond Tibet: Best Tibetan Destinations for 2021
Their population is rapidly growing in China. It is thought that about 100,000 Tibetans live in India and Nepal.
High Mountain Dwellers
The Tibetans are mountain dwellers who live in a vast plateau composed of several of the world's highest mountain ranges. These include the Himalayan range north of India that is the highest range in the world, the Kunlun range, and the Qilian mountain range along Gansu Province.
The Himalayan mountains include Everest that is the tallest mountain in the world. It has become a notable tourist attraction in Tibet. Kawagebo Mountain is part of the Kunlun range and is the tallest mountain in Yunnan. It too is a notable attraction in Yunnan.
Four Ancient Tibetan Regions

The sunrise on Meili Snow Mountains
The land of the Tibetans is divided into the old former Tibetan provinces called U-tsang, Kham, Ngari, and Amdo. The center of the old Tibetan empire is U-tsang. U-tsang is where Lhasa and major Tibetan towns of Tibet are.
To the east of Tibet is Kham. Kham has peaks amid heavily forested valleys where the headwaters of several of Asia's biggest rivers spring. Part of Kham is in Yunnan. Amdo is in the northwest, and much of it is in Sichuan Province, Gansu Province and Qinghai Province.
Lhasa is the capital and largest city. This is where the Dalai Lamas once lived as head of their government. The second largest city is Shigatse that has population of about 800,000 people where the Tibetans live with Chinese.
Tibetans in Adjacent Provinces
Outside of Tibet or U-tsang, about 1.2 million Tibetans live in the high mountains of Sichuan. You can meet them if you visit the Jiuzhaigou area. About 150,000 live in Yunnan. About 21% of Qinghai Province's 7 million people are Tibetans. About half a million Tibetans live in Gansu.
High altitude beautiful places abound in their traditional homeland areas outside of Tibet. These places include Huanglong National Park and Jiuzhaigou National Park in Sichuan, Shangri-la in Yunnan, and Qinghai Lake in Qinghai Province.
In the high mountains on the edge of the mountainous plateaus, Tibetan culture merges with and gives way to the cultures of other ethnic groups who live in high altitudes such as the Qiang who live in the mountainous region north of Chengdu near Jiuzhaigou.


Tibetan Language and Dialects
The Tibetan language is divided by scholars into four dialects. Unlike many of the ethnic groups of China, the Tibetans have their own traditional indigenously developed writing system. It was developed to its present form in the 9th century. They have a body of religious and historical literature from ancient times that helps to define their culture.
Tibetan Origins and History
In ancient times, the ancestors of the present Tibetans lived along the Yaluzangbu (Brahmaputra) River. In the 6th century, the chieftain of the Yarlung tribe conquered several nearby tribes to become king. He was known as Zanpu (king) and established the Po dynasty.
History of the Tibetan Imperial Age and Afterwards
In the early 7th century, Songtsen Gampo (his grandson) unified the whole of Tibet and shifted the capital to Lhasa. This empire was known in Chinese history as the Tupo kingdom.
In 641, Songtsen Gampo married Princess Wencheng of the Tang Dynasty (618 – 907 AD), and he was granted the title of "The King of China's West." By the reign of the emperor Ralpacan, in the opening years of the 9th century, the empire included the Tarim Basin of Xinjiang, the Himalayas, and reached into the provinces of Gansu and Yunnan. The empire fell by civil war in the 840s.
During the Ming Empire (1368–1644) period, the Dalai Lamas began to rule the Tibetans. This is when they started to build the Potala Palace in Lhasa to be the palace of the Dalai Lamas and also a fortress in 1645.
Tibetan Food and Dining

Tibetan food is more than meat and diary.
Barley flour, yak meat, cheese, and mutton are the staple foods of the Tibetans. Supplementing this food is daily drink of high energy yak butter tea and Tibetan barley wine. Tibetans eat Tsampa in almost every meal. Tsampa is roasted barley flour mixed with yak butter tea or Tibetan barley wine. Tibetans usually mix the food with fingers of the right hand, and knead it into small lumps before eating.
But they also eat vegetables and fruit. Now, their diet is getting more varied since food is transported more easily. They sometimes eat rice, chicken, and fish.
Yak butter tea is made of boiled tea leaves, salt and yak butter. These ingredients are mixed together and vigorously churned in a wooden cylinder until they are well blended. Yak butter tea is warm and nutritious, and Tibetans drink it throughout the day. Tibetan barley wine is a very popular alcohol. This mild alcohol is brewed from locally-grown barley, and it tastes sweet and sour.


Tibetan Clothing

Tibetan Clothing
Tibetan people have very characteristic clothes. Generally speaking, they wear a short upper garment made of silk or cloth with long sleeves inside, a wide and loose robe outside, and long boots of cattle hide. For the convenience of work or labor, they usually expose their right shoulder or both arms by tying the pair of sleeves around their waist.
Both men and women have pigtails, but men coil up the pigtails over the head while women comb their hair into two or more pigtails and tie beautiful ornaments on them. Women prefer to wear an apron with beautiful patterns.
Tibetan Customs and Traditions
Hada gift giving: Tibetans deem Hada to be a precious gift. Hadas are a strips of snow-white scarves made of yarn or silk. It symbolizes goodwill and respect, and it might be presented at various occasions such as festivities and the arrival and departure of guests.
Five-colored hadas are the best kind. There are made in five colors: blue, white, yellow, green and red. These respectively indicate sky, cloud, land, river and Buddha dharma. Five-colored hadas are very valued gifts and are presented only in the grandest occasions such as Buddhist activities.
Presenting hada is a kind of common courtesy in Tibet. They do it to show purity, loyalty, faithfulness and respect to the receivers. Even when people correspond with each other, they may enclose a mini hada in their letters for greeting and expressing good wishes. What's more interesting is that when Tibetans go out, they tend to take several hadas with them in case they may need to give them to friends and relatives they encounter along the way.
Tibetan Religions

Tibetan man with a prayer wheel
Buddhist believers must recite or chant Buddhism scriptures very often to earn karma merit. It is thought that the greater number of prayers they can perform, the better their karmas become and the better their fates.
To increase the number of prayers they perform, they may try to turn prayer wheels as often as possible as shown in the picture. They think that turning a prayer wheel is equivalent to chanting scriptures and prayers, and it is a routine work for Tibetan people. For the same reason, they write prayers and chants on flags and cloths that they hang up in the wind. It is thought that each flap in the wind makes better karma.


Tibetan Architecture
The rich maintained mansions and big houses with courtyards. There were two traditional kinds of dwellings for most Tibetans who were not rich or powerful. Dwellings of villagers, towns people or farmers were commonly one or two story buildings with walls of stone or brick and flat clay roofs.
However, the nomadic shepherds and pastoralists live in tents of yak hair. These are usually rectangular in shape and range from 12 to 50 feet (3.5 to 15 meters) in length. The tents are durable enough to resist winds and snowstorms, and are convenient for dismantling and transporting with them. It is suitable for the lifestyle of herdsmen and shepherds.
Potala Palace
Lamaseries are scattered in Tibetan areas, and they exhibit the culture and the superb construction skill of Tibetans. The Potala Palace on Mt. Hongshan (Marpo Ri) in Lhasa, the capital city of Tibet, is the highest altitude palace complex in the world.
Tibetan Festivals

People are celebrating Tibetan New Year.
Losar Tibetan New Year
The Tibetan New Year is the most important festival in Tibet. It is also called the Losar Festival. The dates vary from year to year and don't match the dates for the Chinese New Year.
To prepare for it, people will clean, decorate, and do festival shopping. Then, families will dine together. Fireworks and torches are lit to scare off the evil spirits and bad luck.
On the first day of the New Year, people will wear their best clothes and greet their neighbors and relatives with best wishes. There is an interesting competition on this day for fetching water. A young man from each family will try to bring the first bucket of water from the river or well. According to Tibetan traditions in the New Year, the first bucket of water is gold water, and the the second bucket is silver water, and they will bring good luck, felicity and fortune to people who get them.
There are a lot of cultural activities held in the streets of Lhasa during the New Year Festival. Take a China Highlights Tibet Tour to experience the local pageantry of Tibet.
Shoton Festival
The Shoton Festival (watch online a video about the Shoton Festival) is the liveliest festival of the summer. Shoton, meaning Yogurt Banquet in the Tiabetan language, originated at the Drepung Monastery as a celebration of the end of the lamas' month-long retreats. In the past, the lamas locked themselves away to devote entirely to Buddhism for a month during summer. When the period was over, the lamas were greeted and welcomed by locals with yogurt and performances.
The Shoton Festival lasts for 5 days. During the festival, people in Lhasa will go out and gather at Norbulingka. They bring food such as dairy products and yak butter tea, set up tents, and have picnics there. Tibetan opera troupes gather to give performances there, so the Shoton Festival also gained another name, the Tibetan Opera Festival.
See more about Tibetan Festivals and Dates


How to Visit Tibet and Tibetan Regions with Us

China Highlights can provide private cars to make going up into Tibetan regions easier, warmer, and more comfortable.
Going to the beautiful scenery: The Tibetan plateau area has starkly beautiful places with alpine scenery, large stretches of high altitude tundra-like plains, and towering glacier-covered peaks. Yunnan's Kawagebo Mountain and the Meili Snow Mountains, for example, have been called the most beautiful mountains on earth. But good reliable transportation is important to travel in and enjoy these areas.
Many minority villages are located in remote high valleys and mountainsides where some have retained their traditional cultures and lifestyles. Tibet had for centuries remained isolated in the mountains, so many of the native people are still quite traditional compared to many other ethnic minorities. Some don't speak Mandarin well. They might be difficult places to access on your own.
So we suggest our private tour drivers and vehicles can be a big help. In the Tibetan ethnic areas, there are also other ethnic groups to see, so having a knowledgeable local guide and interpreter is important. They have local contacts and knowledge of the area and a driver. We can take you to visit with families and arrange accommodation. Our expert guides can translate for you too.
To visit Tibet, you will need to travel with a certified travel agency such as ourselves to qualify for the mandatory Tibet Entry Permit.
Here are sample itineraries for touring in Tibetan minority areas of southwest China and Tibet. We can modify these so you can go to the Tibetan regions that interest you the most.


Related Articles

travel guide
China's Top 10 Largest Cities

China facts
China Facts (17 Fantastic Facts about China)