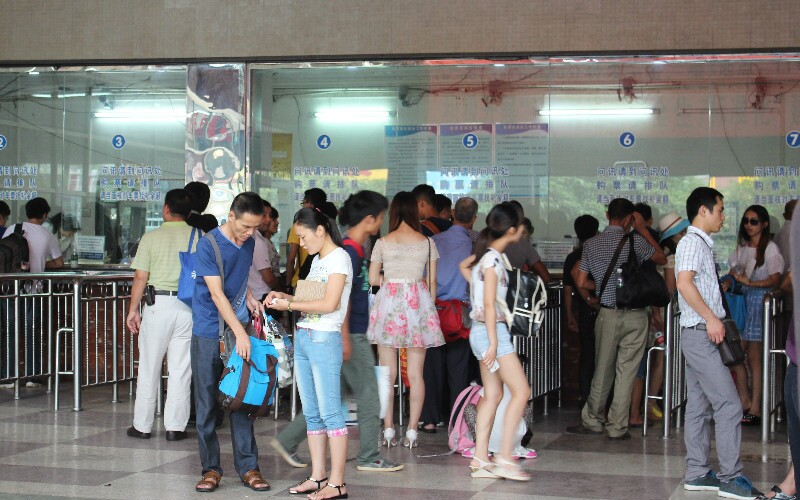 beijing
Beijing long Distance Bus Stations
It can not be denied that Beijing is the largest junction of major roads in China. Centering in Beijing, twelve national roads radiates to all directions, leading to many cities such as Shenyang, Harbin, Guangzhou, Zhuhai, Nanjing, Fuzhou and Kunming and so on. Besides, nine expressways surround Beijing, which gives greater convenience to the city. 
It is more expensive to take a long distance bus than to take a train, however, taking a long distance bus can be more convenient and less crown. For long-distance travelers, taking buses is not recommended, but for short-distance travelers, it should be better to take buses. Travelers can buy bus tickets several days prior to the departure, by the time arriving at the station or even after getting on the bus when travelers in a race against time.
In Beijing, there are 19 Long-Distance Bus Stations, operating thousands of buses everyday. Generally speaking, there is no rule that a bus station operates fixed bus routes, the differences between these bus stations are the scale and different stations adjust different departure frequencies according to passenger flow. Hence, passengers can choose the bus station according to the distance to the station.
1. Liuqiaoli Long-Distance Bus Station 六里桥长途客运站
Address: A1, Liuliqiao Nan Li, Fengtai District (丰台区六里桥南里甲1号)
Tel: 010-63861262 / 63861264
Bus Routes: 6, 50, 323, 300, 323, 324, 349, 368, 719, 730, 811, 822, 830, 836, 901, 944, 968, 977, T2, T7, T8 (get off at Liuliqiao Nanli Stop and walk westward 100 meters), Yuntong 201 (get inside the bus station)
Hours: 04:50–22:00
2. Xianglong Zhaogongkou Long-Distance Bus Station 北京赵公口长途汽车站
Address: 34 Middle Nasanhuan Road, Fengtai District (丰台区南三环中路34号)
Tel: 010-67242446 / 67223111-3068
Bus Routes: 17, 43, 300, 368, 826, 741, 830, 730, 957 and 971 (get off at Zhaogongkou Stop)
Hours: 05:00–19:30
3. Dongzhimen Long-Distance Bus Station 北京东直门长途汽车站
Address: 45 Dongzhimen Waixie Street, Dongcheng District (东直门外斜街45号) Tel: 010-64671346 / 67237328
Bus Routes: 44, 117, 359, 401, 404, 915, 916, 24, 106, 107 (get off at Dongzhimen Stop)
4. Bawangfen Long-Distance Bus Station 八王坟客运站
Location: East end of Chang'an Avenue (长安街东端)
Tel: 010-67740320
Bus Routes: 11, 30, 31, 715, 721, 752, 754, 988 (get off at East Railway Station)
Hours: 06:30–22:00
5. Muxiyuan Long-Distance Bus Station 木樨园客运站
Address: 199, Yongwai Haihutun, Fengtai District (丰台区永外海户屯199号)
Tel: 010-67267149
Bus Routes: 2, 17, 300, 341, 366, 368, 377, 705, 730, 732, 757, 826, 830, 927, 971, 988, Te 8, Bailibao 101and Yuntong 107 (get off at Muxiyuan Stop)
Hours: 05:00 – 19:00
6. Lize Long-Distance Bus Station 丽泽长途汽车站
Location: East Lize Bridge, Xisanhuan, Fengtai District (北京市丰台区西三环丽泽桥东)
Bus Route: 6, 323, 324, 988, Yuntong 103, Yuntong 108 and Te 2 (get off at Lizeqiao Stop)
Hours: 06:00 – 23:25
7. Xinfadi Long-Distance Bus Station 新发地长途客运站
Address: 100 meters (109 yards) north of Xinfadi Bridge, Fengtai District (丰台区新发地桥西侧100米路北)
Tel: 010-83727679
Bus Routes: 115, 381, 366, 901, 423, 962, 977, 353, 813, 937, 968, 922, 719, 943 and 957 (get off at Xinfadi Stop)
Hours: 06:00 – 17:30
8. Lianhuachi Long-Distance Bus Station 莲花池长途客运站
Location: 35 Guang'an Road, Fengtai District (丰台区广安路35号), it is quite near the master station of bus lines 6, 321 and 329.
Tel: 010-63464027
Bus Routes: 1, 4, 38, 57, 300, 309, 323, 340, 390, 619, 620, 715, 719, 730, 822, 830, 853, 917, 927, 982, 993 and Te 7 (get off at Liuliqiao Nanli Stop)
Hours: 06:00 – 20:00
9. Sihui Long-Distance Bus Station 四惠长途汽车站
Address: No.68, Jianguo Lu, Chaoyang District (朝阳区建国路68号)
Tel: 010-67716787 / 65574804
Bus Routes: 1, 4, 57, 322, 363, 397, 402, 715, 825, 928, 930, 952, 984, 847, 989, 984 (get off at Sihui Stop)
Hours: 06:00 – 19:30
10. Yongdingmen Long-Distance Bus Station 永定门长途汽车站
Address: 37 Yongwai Pengzhuang, Chongwen District (崇文区永外彭庄37号), it is also the starting sation of bus lines 20, 102, 106, 943 and 986.
Tel: 010-63034307
Bus Routes: 122, 721, 741, 744, 958, 927, Te 3 and Te 5 (get off at the stop of Beijing South Railway Station, "北京南站" in Chinese)
11. Beijiao Long-Distance Bus Station 北郊长途汽车站
Address: A 30, Huayan Beili, Chaoyang District (朝阳区华严北里甲30号), it is quite near the master station of bus line 55.
Tel: 010-82846760
Bus Routes: 305, 804, 315, 618, 727, 819, 845 and 939, and get off at the stop of Qijia Huozi (祁家豁子)
- Top - or- Beijing Travel Guide
Related Articles

beijing
How to Plan a Trip to Beijing

about us
Company History